8 Channel Relay Board with onboard 5V regulator
This is a general purpose relay board accepting 8 inputs to drive 8 relays providing control requirement in your project. This board can also be used as an add-on card for the various Development board that we provide.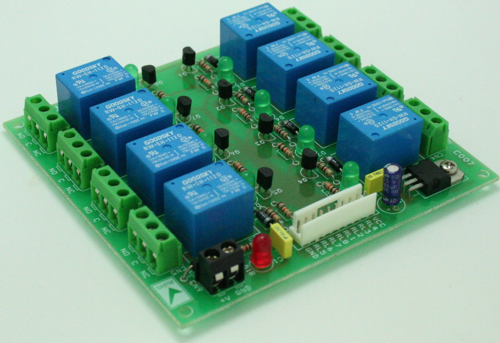 Features
Robust Design using NPN transistor to drive each relay
Relay On Indicator LED for each of the eight relays.
Back EMF / Surge protection diode across each relay to protect driving circuit.
3 Pin PBT connector for connecting load to the relay.
Reverse Polarity protection diode (D17) provided.
2 pin PBT provides easy connection of power source to the PCB.
On Board Voltage Regulator U1 (7805) provides +5V DC supply to ongoing interface circuit connected to this board.
A 10 pin Relimate Connector provides easy connect of this PCB to the driving interface.
Supply voltage 12 ~ 15 V DC
Schematic
For more detail: 8 Channel Relay Board with onboard 5V regulator

Project Ratings:
Related posts
Leave a Comment
You must be logged in to post a comment.