Analog Devices and Arcturus Supply IP Media Development Kit and Ready-to-Use Module Based on Blackfin Processor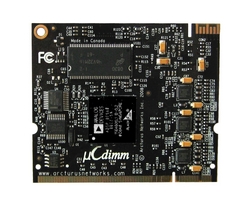 Norwood, MA (PRWEB) September 16, 2009
With the growing popularity of SIP (Session Initiation Protocol) for enabling multimedia communications over IP (Internet Protocol) networks, Analog Devices, Inc. (NYSE: ADI) and Arcturus Networks Inc. are introducing the uCBF54x Start Kit and System Module to speed development of embedded media devices that feature multichannel voice, mini PBX, or IP video capabilities. Targeted commercial and industrial applications that can benefit from using the uCBF54x for SIP-enabled two-way voice and/or video communications include: building and industrial safety systems, such as access control and public address; passenger assistance applications in mass transit; healthcare monitoring; and point-of-service, including central order-taking at quick-service restaurants.
Based on ADI's Blackfin

Project Ratings:
Related posts
Leave a Comment
You must be logged in to post a comment.