Analog Devices' Linear Regulator Family, Optimized for Noise-Sensitive Portable Applications, is Available in the Industry's Smallest Package : ADI's new ADP120, ADP121 and ADP130 LDOs deliver the right balance of excellent noise performance and very low quiescent current, allowing mobile electronics designers to quickly and cost-effectively distribute clean power rails to noise-sensitive systems.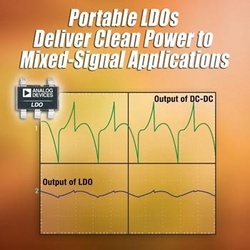 NORWOOD, Mass. (PRWEB) September 25, 2008
"Low-power and low-noise operation are key design challenges for mobile device designers being tasked with adding new features and functions into power-sensitive consumer, industrial and medical devices," said Arcadio Leon, marketing director for portable power products, Analog Devices. "Part of ADI's growing portfolio of power management solutions, the ADP120, ADP121 and ADP130 LDO trio delivers an optimized balance of low quiescent current and low noise to improve performance and extend battery life."
The new devices are part of a family of low-noise LDOs that provide clean power to noise-sensitive mixed-signal ICs with supply currents below 350 milliamps (mA), while consuming only 11 microamps (

Project Ratings:
Related posts
Leave a Comment
You must be logged in to post a comment.