Analog Devices Unveils Op Amp with Over-Voltage Protection for Industrial Process Controls : ADI's ADA4091-2 dual rail-to-rail op amp delivers industry's best combination of low offset, low offset drift and wide gain-bandwidth across a variety of sensor inputs, while over-voltage protection circuitry prevents phase-inversion errors.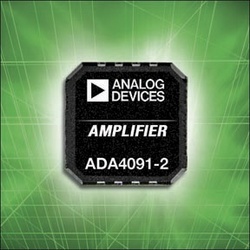 NORWOOD, Mass. (PRWEB) September 19, 2008
"Industrial amplifiers are subject to fault voltages from a variety of sources, including electro-magnetic interference, damaged cabling, lightning strikes and other disturbances on the power grid, incorrect hookups to other system components and power-line surges when power to the system is restored after routine service or equipment upgrades," said Steve Sockolov, product line director, Precision Signal Processing, Analog Devices. "Such over-voltage conditions can cause phase inversion or damage the amplifier and other circuitry, resulting in system lock-up or outright failure."
The ADA4091-2 op amp's performance is fully specified, including the device's on-chip over-voltage circuitry. This simplifies equipment design and error analysis and results in more consistent output readings in industrial process controls, battery-powered instrumentation, power supply control and protection systems and remote sensors.
By providing localized signal conditioning and the industry's best combination of low offset, low offset drift and wide gain-bandwidth, the ADA4091-2 delivers precision performance across a variety of sensor inputs, while the over-voltage protection feature prevents phase-inversion errors and excessive input current flows during transient or fault conditions. The performance of competing op amps must be evaluated to compensate for the error effects of discrete over-voltage circuitry on system performance, which adds a layer of complexity and uncertainty to the design process.
By integrating the requisite over-voltage protection circuitry, the ADA4091-2 dual micro-power op amp with rail-to-rail inputs and output allows system designers to reduce the number of external components needed to ensure stable system operation.
The new 1.5-MHz op amp features a low 350-

Project Ratings:
Related posts
Leave a Comment
You must be logged in to post a comment.