This project describes how to measure temperature with Atmega8 and a thermistor and display it on a Nokia 3310 LCD. A thermistor is a device that changes its resistance with temperature. With a proper resistor divider network, the temperature can be measured by measuring the voltage across the thermistor.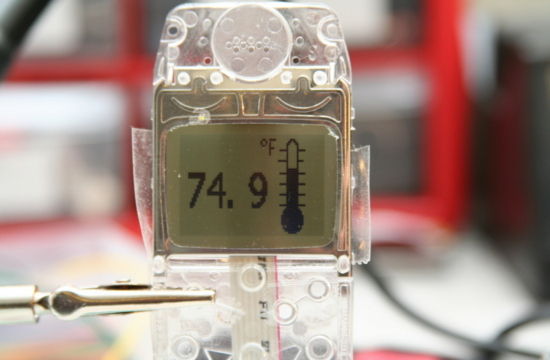 The voltage across the thermistor is measured by the on-chip ADC of Atmega8. The necessary coefficients to convert the resistance to temperature are given in the manufacturer's datasheet of the thermistor. The thermistor used in this project is Vishay NTCLE100E3103JB0 (found at Sparkfun.com).
The firmware for Atmega8 is available for download.
For more detail: AVR displays body temperature on a Nokia 3310 LCD using Atmega8 microcontroller
This free embedded project also found using: