Catch the wind into a net (or into a battery)
With the new AIR 40 wind turbine it is possible to gain 40 kWh monthly – easily and safely.  Advantages / Features: high quality wind turbine with 12, 24 or 48V output voltage 40 kWh monthly at an average wind speed of 5.8 m/sec operation at 3.1-22 m/s wind speeds microprocessor based controller aluminium body composite blades optimized for a quiet operation 1.17m rotor diameter electronic overspeed protection brushless alternator (dynamo) with a long lifetime Small wind turbines are an excellent electric energy source for all "off-grid" applications with a low and middle power consumption like telecommunications, lighting, SCADA (telemetry) and other.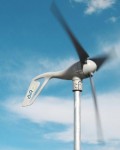 Read more:
Catch the wind into a net (or into a battery)
Project Ratings:
Related posts
Leave a Comment
You must be logged in to post a comment.