D&H Global Enterprise, LLC Announces New Arduino-Compatible Microcontroller Line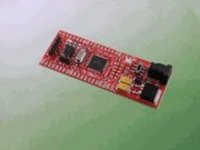 Menomonee Falls, WI (PRWEB) January 3, 2010
D&H Global Enterprise, LLC, a woman-owned company that designs and develops new technologies, has released a new product line of low-power microcontrollers compatible with the Arduino platform. The products featured include the Sanguino Pro, Sanguino Pro Breakout, and Freeduino Epic.
The Sanguino Pro and Sanguino Pro Breakout are microcontroller boards based on the Sanguino design by Zack Hoeken, which use the ATmega644P processor from Atmel. They offer 32 GPIO pins, 64K of flash memory, and 4096 bytes of RAM. The Sanguino Pro Breakout can be used as a breakout board for a Sanguino or Sanguino Pro, and it is optionally available with the Sanguino Pro integrated on the board.
The third board of the product line is the Freeduino Epic, which is a microcontroller based on the Arduino Mega, which uses the ATmega1280 processor from Atmel. It is pin compatible with Arduino Mega, and it operates at 16 MHz, with 54 GPIO pins, 128K of flash memory, and 8192 bytes of RAM. It is compatible with Arduino shields. A complete list of specifications can be found at D&H Global's website: http://www.dh-global.com.
All boards are easily programmed with a simple USB to serial cable and open source tools. They can be programmed using the open source Arduino IDE or C. Arduino simplifies and speeds up the task of programming a microcontroller.
The Sanguino Pro, Sanguino Pro Breakout, and Freeduino Epic can be utilized in any application involving sensing and controlling the physical environment, e.g. robotics, environmental controls, controlling physical devices, automation of greenhouse plant watering, etc.
About D&H Global Enterprise, LLC., (http://www.dh-global.com):
D&H Global Enterprise, LLC is a woman-owned company that has been providing quality products and services since 2003. D&H specializes in the design and production of microcontrollers, single board computers, converters, and FPGA-based products. The products mentioned above are modular with plug and play capabilities. We also offer custom product design to best fit your engineering needs. Our designs are primarily based on an open source, Linux platform; however, we do develop on the Windows platform. Additionally, reverse engineering services are available for obsolete products.
###
Project Ratings:
Related posts
Leave a Comment
You must be logged in to post a comment.