Hameg oscilloscopes – yet two months for an extra price
Special offer "-15% for all" continues on! This special offer is extended because of a big interest within 30.10.2013.
Excellent digital storage oscilloscopes HAMEG HMO can still be obtained with a discount, without any other conditions.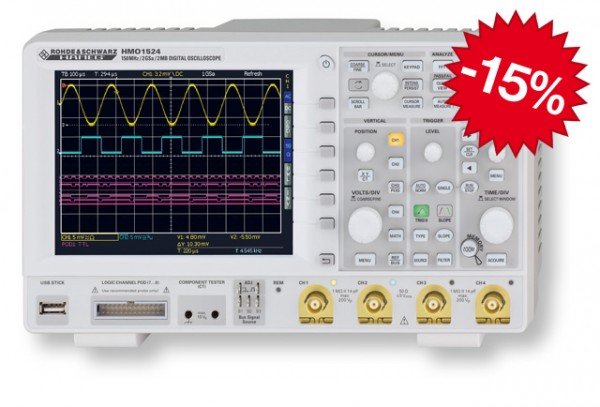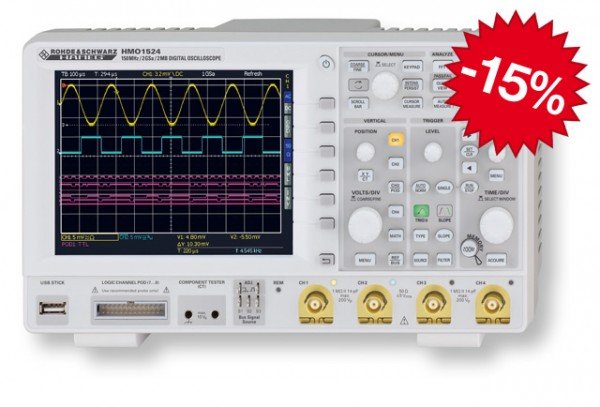 The only "condition" is an order placed within October 30-th 2013. The offer is valid for all types of the HMO series,which we currently have in stock. And why just Hameg (member of Rohde & Schwarz)? Because these oscilloscopes provide a unique price/ performance ratio and in many ways they create "their own class" of devices. We introduced you several functions of the HMO oscilloscopes in our recent articles. A big plus is a considerable user comfort and an intuitive operation despite wide possibilities of these devices. Should we mention at least one function increasing a comfort, then it could be for example the "Virtual Screen" function, which adds a scroll-bar to the screen on the Y axis and increases resolution in the vertical axis up to 1200 points (20 divisions). This is especially handy when the optional 16 digital inputs are used, as displayed on the attached picture.
-15% discount will be deducted from the current price (displayed in our e-shop) after processing of your order.
The offer is valid through October 30-th 2013 or until stock sell-out. In case of interest, please contact us at [email protected].
For more detail: Hameg oscilloscopes – yet two months for an extra price

Project Ratings:
Related posts
Leave a Comment
You must be logged in to post a comment.