How the iPod Shuffle Works
Inside the iPod Shuffle
Although an iPod with 240 or 500 songs might not sound so impressive from the start, you have to consider the size of the iPod Shuffle — it's about as big as a quarter. The iPod Shuffle stores music using a USB flash drive, the same kind of technology you find on portable memory sticks. They're especially handy for people on the run or listeners who like to switch up their playlists often, because flash drives are easily removable and rewritable.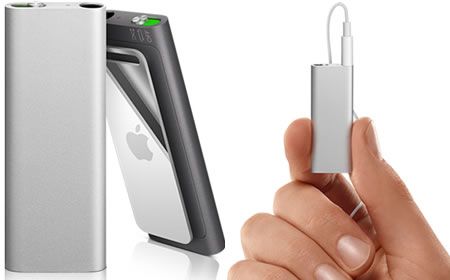 When you open up an iPod shuffle, the first thing that might stand out to you is the battery located on the back. It's a special type of rechargeable battery that's similar to the kind found in a laptop computer, because it uses lithium to carry electricity back and forth — a lithium-ion polymer battery. A lithium-ion polymer battery is still different from a regular computer battery in that it's much smaller and lighter and has less of a chance of overheating (even though some iPods have reportedly caught on fire). The battery of an iPod Shuffle is connected to a printed circuit board (PCB), which holds together all the different parts of the inside of the device. Below the battery is the flash memory chip, which stores all of the iPod's music.
The front of the iPod looks a lot different. That's where you'll find the microprocessor, which controls the iPod's functions and randomly selects the songs you listen to. There's also the circular area that take up most of the front, which has five tiny buttons (four on the outside, one in the middle). These are the buttons you press to choose songs when the iPod isn't taken apart — the left and right buttons skip or replay songs, the top and bottom buttons (the plus and minus signs on the outer case) adjust the volume and the center button plays or pauses the music. There's a hole on one side for a headphone jack, and the other side has two switches: one that turns the iPod on and off and another that turns the Shuffle mode on and off.
The Shuffle supports seven different audio formats: AAC, protected AAC, MP3, MP3 VBR, Audible, WAV and AIFF. The Shuffle also uses a feature in iTunes called "AutoFill," which automatically chooses songs at random and puts as many as will fit onto the Shuffle's flash drive. (For those of us who like to make our own playlists, that option is also available, and you can pick and choose songs you want to upload, too.)
For more detail: How the iPod Shuffle Works
Project Ratings:
Related posts
Leave a Comment
You must be logged in to post a comment.