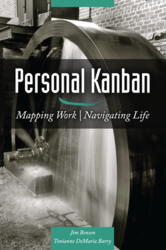 Seattle, Washington (PRWEB) February 08, 2011
We all want to do a good job – for our colleagues, our family, and ourselves. Overwhelmed with obligations and inundated with work, we multitask without even realizing it. We let important tasks slip through the cracks, we embark on tasks we never finish, creating, responding to, and existing from one emergency to the next. Working like this is unsustainable; it decreases our effectiveness and perpetuates a vicious cycle. Wouldnt we rather be more effective in our careers, spend more time being present with those we love, and ultimately feel more in control of our lives?
Published today by Modus Cooperandi Press, Personal Kanban: Mapping Work | Navigating Life by Jim Benson and Tonianne DeMaria Barry describes the forces standing between us and effectiveness. Personal Kanban is a simple and elegant system to help individuals and teams make better decisions and live more effectively.employer, our co
Personal Kanban is all about understanding and effectiveness. People are so busy they cant see past their daily to-dos. They let options slide by while working on tasks of little value. At any given time, we want to know what we are doing, be able to communicate that to others, and see what our true options are, said Jim Benson, CEO of Modus Cooperandi, a collaborative management consultancy. Other personal and team management systems are top-heavy, requiring significant work to update and maintain. Personal Kanban runs in the background, always providing you with information and not adding additional work or pain.
Personal Kanban is a system that has only two basic rules: Visualize Your Work and Limit Your Work-in-Progress.