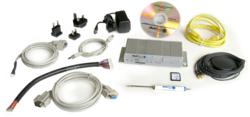 Minneapolis, MN (PRWEB) May 03, 2011
Multi-Tech Systems, a world leader in machine-to-machine (M2M) communications solutions, announces a partnership with Sprint to offer a 90 day data plan with its Cellular Development Platform (CDP), an all-in-one hardware and OpenEmbedded Linux development environment. This simplifies the development process while significantly reducing costs and time to market. For a limited time, the Sprint models of the Multi-Tech CDP Developer Kits are available for $ 299 and include 90 days of Sprint network access.
The Multi-Tech CDP Development Kit is an ideal proof-of-concept tool for prototype development and beta testing of any M2M communications solution, including telematics, remote monitoring, asset tracking or fleet management or Point of Sale virtually any application that needs to connect devices or sensors. The addition of a 90-day data plan from Sprint makes the development of these solutions quicker than ever. Typically, a business would need to develop an application, design hardware, obtain a data plan to test and then figure out deployment options. As a complete application-ready hardware solution that is ready to field test on the Sprint cellular network, the CDP and Sprint offering eliminates many of the traditional steps.
Partners like Multi-Tech Systems bring distinct enhancements to our M2M portfolio and Sprints focus on an Open-Network-Execution approach helps partners and customers benefit from M2M opportunities, said Wayne Ward, vice president of Sprint Emerging Solutions Group. Our value proposition is built on streamlining the process of deploying M2M solutions, while enabling customers to tap into our extensive M2M ecosystem, where they can choose from a broad selection of applications and expertise to support their specific objectives.
It is our goal to help provide our customers with the shortest path to enabling wireless communications. We are excited to provide this offer with Sprint, a longtime partner, to do just that, said Matt Sharma, executive vice president for Multi-Tech.
The Cellular Development Platform is a complete hardware solution, including an ARM9 processor, 64 MB SDRAM, 256MB NAND flash, 2G or 3G cellular modem, GPS, multiple interfaces (USB host/device, RS-232, Ethernet) and 36-pin GPIO, housed in an industrial chassis with FCC, IC, UL, PTCRB and R&TTE certifications and all major carrier approvals. As an industry-leading hardware solution, the Cellular Development Platform functions as a mini industrial computer that enables both machine control and data transport over a cellular network.
With more than 10 years of experience with M2M, Sprint has been at the forefront of this wireless industry revolution, teaming with and supporting a large and diverse portfolio of innovative partners to create smarter wireless solutions. Sprint and its partners have already brought to market a wide array of solutions that feature a host of devices running on our network, which are changing the way people work and live including benefits to a variety of categories. To learn more, view this special What if … M2M video and visit http://www.sprint.com/m2m.
Multi-Tech