Multimeter with Atmel using Atmega8-16pu microcontroller
Atmega8 Multimeter
"Multimeter" was the only title to einfiel to me first. Voltmeter (only positive DC) 0.00 – 9.99 volts and 10.0 – 30.0 volts with automatic range switching.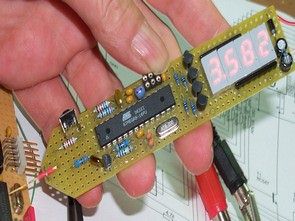 Frequency counter 0 .. 7999 MHz (Theoretische) with automatic Switching time Basis
Logic tester L – prohibited area – H (actually also open line)
For more detail: Multimeter with Atmel using Atmega8-16pu microcontroller

Project Ratings:
Related posts
Leave a Comment
You must be logged in to post a comment.