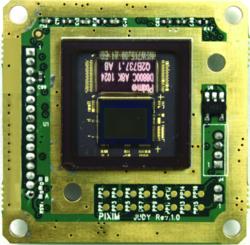 Mountain View, CA (Vocus/PRWEB) March 30, 2011
Pixim Inc., a leading provider of imaging chips for enterprise security cameras, announced the release of three camera module reference designs based on its new Seawolf chip. The three sizes, 32x32mm, 38x38mm, and 42x42mm, allow Pixims customers to easily and quickly support all of the popular, worldwide camera module form factors used in high-volume security cameras.
Pixims reference designs facilitate rapid development of next generation, high-performance, cost-optimized CCTV and IP cameras. Through Seawolf, the reference designs offer 690 HTVL effective resolution as well as the industrys proven best wide dynamic range. In addition, they require just 0.1 lux of illumination to produce usable, color images at 30 frames per second.
The camera modules utilize the PixMate companion chip from Kiwi Semiconductor that integrates the functionality of five active components and their associated passive devices into a single chip, reducing bill-of-materials (BOM) cost and simplifying sourcing and inventory management.
The reference designs have been produced to fit within a wide variety of camera housings and applications. They include hole patterns for common lens mounts as well as for attaching to standard camera gimbals and housings. The 32x32mm enables very small cameras and is a popular form factor for cameras embedded in ATM machines and transit cameras.
Our customers are camera manufacturers who answer to the needs of end users around the world, explains Jeff Jones, director of product marketing for Pixim. With these three reference designs, we are making it possible for them to put the advantages of our new Seawolf chip into any camera form factor they build and to do so quickly without trial and error.
About Pixim

Pixim Inc. has developed unique imaging technology that revolutionizes the way video cameras capture and process images. Unlike traditional image capture technologies, where each pixel cannot adjust to highlights and lowlights in the same scene, Pixim's patented Digital Pixel System