Repair dead AVR's – Attiny fusebit doctor (HVSP)
Did you make a mistake while programming fusebits, or purposely disabled reset pin (RSTDISBL) or ISP programming (SPIEN)? No need to buy or make inconvenient HV programmer only for unlock couple of Tiny AVR's. This Attiny fusebit HV doctor will cure your dead tiny microcontrollers, by restoring all fusebits to factory settings – nice and easy. Supports all of the serial high voltage interface AVRs, that is 8-pins: Attiny11, Attiny12, Attiny13, Attiny15, Attiny25, Attiny45, Attiny85, and 14-pins: Attiny24, Attiny44, Attiny84. This is very simple and cheap to make, the brain of device is an Attiny2313 uC, couple of resistors and transistors, and a 5V stabilizer. You need 12V stabilized supply for this. Repair begins after the button START is pressed. Button is active again after 250ms, so pressing it will reset device and start a new repair process.
Step 1: LEDs explanation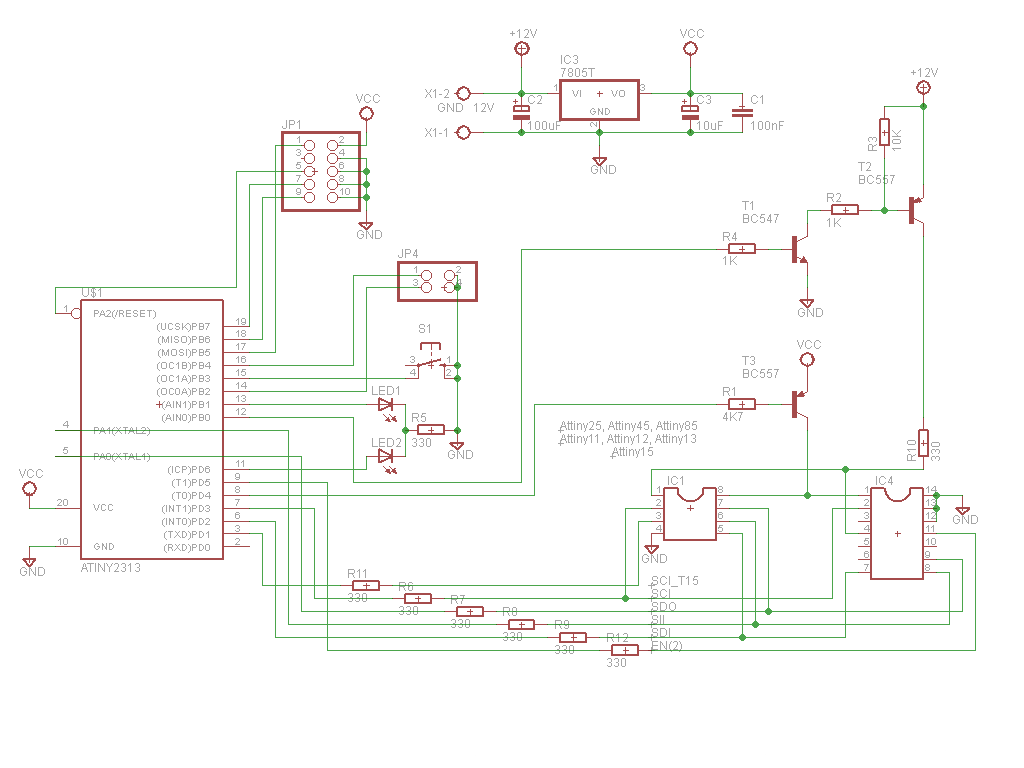 LEDs explanation:
green on – patient successfully cured, fusebits repaired. If lockbits are enabled, just verify fusebits with factory ones – and if they ok – light up green.
red on – signature problem, can't read, no device in socket, or no such signature in database.
green flashing – signature ok, fusebits are wrong. Lockbits enabled, chip erase permission required (read below).
red flashing – signature ok, no lockbits, but for some reason can't write new fusebits, can't pass verification after 10 attempts.
For more details, click: Repair dead AVR's – Attiny fusebit doctor (HVSP)

Project Ratings:
Related posts
Leave a Comment
You must be logged in to post a comment.