Sigfox Talking Plant
Hardware components:
×
1
Atmel ATA8520D (EVK arduino)

×
1
Software apps and online services:
| | | | |
| --- | --- | --- | --- |
| | | | |
Story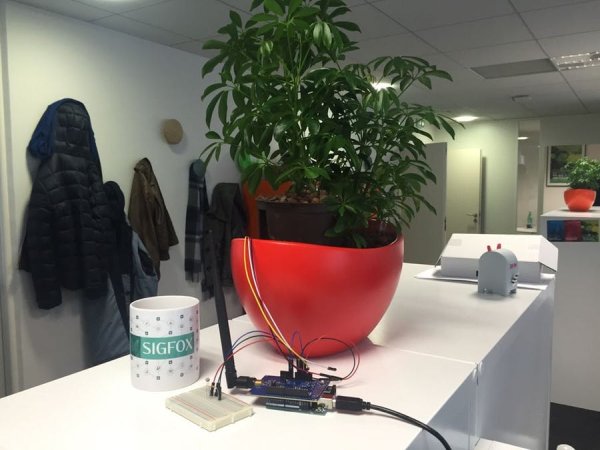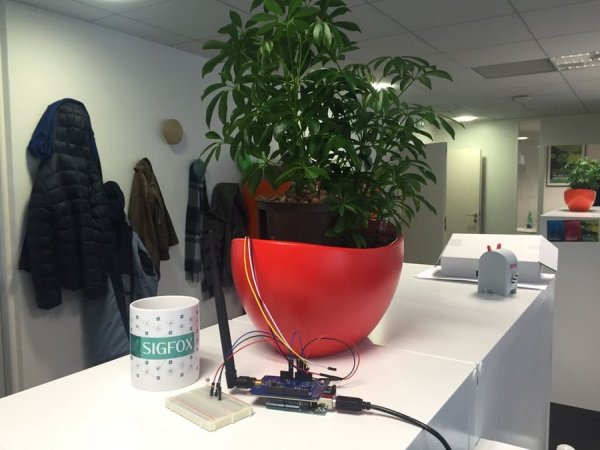 What is Sigfox Talking Plant?
It is a simple project based on Sigfox network to make a plant talk on Twitter. The main goal is to demonstrate how to make an easy IoT prototype using Sigfox network.You can see a demo at http://sigfox.louismoreau.eu
Which microcontrollers will be used?
In this tutorial, we will be using an Arduino UNO and an ATMEL EVK shield. Other dev kits are available on Sigfox Partners
How long does it take to make it?
From scratch it took me 3 days to make the plant talk on Twitter. However, all the source code is available on Github. So, in an hour or two you will be able to make it work.
Do I need any previous knowledge?
You don't need any previous knowledge although knowing Arduino and Javascript is a plus. The web app will be an AngularJS app and we will be using a NodeJS server.
Is it useful?
Good question! You can use this project to gather a community around the plant or just to remember your followers to water the plant. Feel free to share the way you have been using this project 😉
Who am I?
My name is Louis Moreau, I'm an intern at Sigfox. My mission is to create prototypes and PoC using Sigfox network. I want these projects to be fun and instructive. I want to show you how easy is it to develop the first steps of your ideas. I will try to make this tutorial as complete as I can. Do not hesitate to ask me for more details if needed : Github
In order to make this tutorial, I've been using myself few projects :
Step 1: Understand Sigfox
What is Sigfox?
Sigfox is an connectivity solution dedicated to the Internet of Things.The operated network is currently operating in +15 countries, on every continent. Focused on tiny messages (up to 12 bytes) & low energy consumption, it currently powers 7 million devices. Various Sigfox-compatible technical solutions are available, from different silicon vendors. This project uses a Arduino shield from Atmel (see below)
Step 2: Hardware Requirements
In this tutorial, we will be using :
What we need is to get the soil moisture, the luminosity and the temperature. The temperature sensor is already provided with the ATMEL shield, thus we only need to add the photocell resistor (to get the luminosity) and the moisture sensor.
For more detail: Sigfox Talking Plant
Project Ratings:
Related posts
Leave a Comment
You must be logged in to post a comment.