SP12 serial programmer software
SP12 supports the following devices: AT90S1200, AT90S2313, AT90S8515, AT90S4414, AT90S2323, AT90S4434, AT90S8535, AT90S2343, ATtiny22, AT90S2333, AT90S4433, ATtiny12, ATtiny13, ATtiny15L, ATtiny26, ATtiny25, ATtiny45, ATtiny85, ATtiny2313, ATtiny861, ATmega103, ATmega603, ATmega161, ATmega162, ATmega163, ATmega168, ATmega8515, ATmega8535, ATmega8, ATmega16, Atmega32, ATmega48, ATmega88, ATmega128, ATmega2561, AT90PWM3.
SP12 on Win2000 / WinXP:
If you are trying to run SP12 on Windows 2000 or Windows XP you will find out it won't work. What you need is a modified version of SP12 and a driver called GIVEIO. Here you can download a compleet package. Put the file giveio.sys in (Win 2000):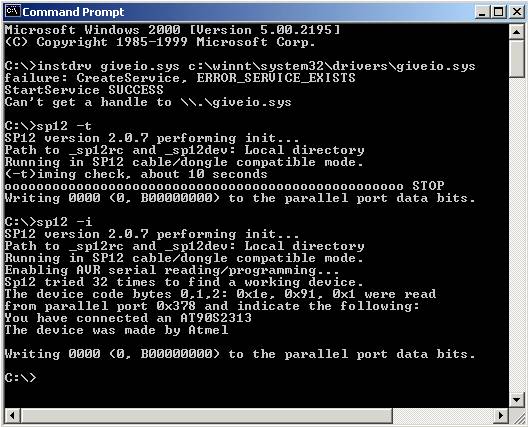 C:\WINNT\System32\Drivers\
Now type in the prompt: instdrv giveio.sys c:\winnt\system32\drivers\giveio.sys. Then hit enter to install the giveio driver (can take a moment) When that's accomplished, you should be able to run SP12 as its documentation describes.
Goodluck!
For more detail: SP12 serial programmer software

Project Ratings:
Related posts
Leave a Comment
You must be logged in to post a comment.