SYS TEC Electronic GmbH and A.N. Solutions GmbH Develop a New Gateway Platform to Connect CAN Devices Over IEEE 802.15.4-Based Networks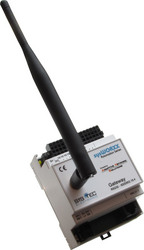 Dresden, Germany (PRWEB) November 24, 2010
SYS TEC electronic GmbH and Adaptive Network Solutions GmbH announced today the launch of sysWORXX IEEE 802.15.4 Gateway. This off-the shelf product presents an efficient solution for enhancing the CAN and CANopen-based environment with standard IEEE 802.15.4 wireless networking technology, and facilitates customized ZigBee and 6LoWPAN solutions. The gateway will be available in two versions: with built-in internal antenna and with external antenna adapted via SMA connector.
The steadily increasing complexity in modern industrial application scenarios, make integration with wireless networks more and more necessary. And in large distributed applications, the limitations of traditional cable-based bus systems become the bottleneck, said Mr. Armin von Collrepp, Head of Sales and Marketing of SYS TEC electronic GmbH. With establishing a close cooperation with A.N. Solutions and incorporating A.N. Solutions technologies into our custom-tailored solutions, SYS TEC is well prepared to face the growing demand of wireless integration, and is able to provide cutting-edge turn-key system solutions with wireless connectivity.
Thomas Lerm, CEO of Adaptive Network Solutions GmbH, added: IEEE 802.15.4-based wireless technologies can greatly extend the capabilities of traditional, widely deployed wired CAN solutions. By teaming up with SYS-TEC electronic GmbH, we have jointly developed a gateway that links those two worlds. Adaptive Network Solutions has contributed its in-depth expertise in both wireless hardware and software. The new product will further extend our offering, and along with our IEEE 802.15.4/ZigBee modules, development tools, software and professional customization services, will enable OEMs and system integrators to cut costs and time to market for their wireless products and solutions.
The sysWORXX IEEE 802.15.4 Gateway is a commercial off-the-shelf device solution that combines complementary assets of CAN and CANopen based environment with features of standardized IEEE 802.15.4 wireless networking technology. The module was designed to extend standard CAN and CANopen-based devices for accessing IEEE 802.15.4 based networks. A set of IEC 61131-3 function blocks support easy and straightforward integration into own application software.
The IEEE 802.15.4 functionality on the device is based on A.N. Solutions AT-ANY-900 wireless components, as well as the "Smart MAC Suite Base" firmware (http://www.an-solutions.de/products/mesh_software.html), also provided by A.N. Solutions. The CAN/CANopen- IEEE 802.15.4 Gateway features a complementary set of on-board digital I/Os and is available as device version with built-in internal antenna, as well as device version with external antenna. Both companies, A.N. Solutions and SYS TEC electronic, joined their forces to provide customers with the first-class turn-key solutions comprising the excellence of industrial communication, control and wireless technology.
Availability

Available in Q1/2011

Please inquire for pricing information.
About SYS-TEC electronic GmbH

Founded in 1990, SYS TEC electronic GmbH specializes in developing and implementing customer-specific solutions for industrial automation and communication based on IEC 61131 with CANopen and Ethernet connectivity.
The following in-house resources and qualities enable SYS TEC to provide high-quality, microcontroller-based software and hardware solutions in response to client needs:

Project Ratings:
Related posts
Leave a Comment
You must be logged in to post a comment.