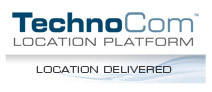 Carlsbad, CA (PRWEB) September 08, 2011
TechnoCom Corporation, a leading provider of enterprise location solutions announced today issuance of US Patent No. 7,974,635: Method and System for Automated Collection of Call Routing Performance Data in a Wireless Network. This is an important addition to the companys portfolio of wireless location patents and pending applications..
The TechnoCom patent portfolio spans critical areas of wireless location including: location determination, location system performance prediction, embedded and automated location system performance testing, location network calibration and location system augmentation. The technology covered by this new patent automates collection and storage of call routing performance data to streamline the testing of location-based call routing systems and processes. It enables more comprehensive, cost efficient assurance of location network performance, Enhanced E9-1-1 (E911) service integrity and other mission-critical call routing applications.
TechnoCom owns a broad range of intellectual property associated with systems and methods for embedded and automated wireless location network validation, wireless location coverage and performance prediction, efficient network-assisted calibration of location networks, and location determination technology.
This new patent extends TechnoComs broad patent portfolio, covering all aspects of wireless location, from location determination methods, initial deployment and verification through ongoing testing and performance assurance, said Dr. Khaled Dessouky, co-founder and executive vice president at TechnoCom. We have focused our innovations on systems and methods that make these critical steps much more efficient and cost-effective, with platforms that conveniently capture and retain the extensive data to meet our customers ongoing needs.
TechnoCom is an established location aggregator on all Tier 1 US wireless networks including AT&T, Sprint, T-Mobile USA and Verizon Wireless with the ability to locate over 360 million mobile and landline phones through its enterprise location platform.
About TechnoCom

TechnoCom Corporation is a leading provider of products and services to enable wireless location solutions for enterprises, wireless carriers, and service providers. TechnoCom helps its customers efficiently implement, optimize and manage location solutions for E911 and commercial location-based services. TechnoCom Location Platform is a turn-key, enterprise location-based services platform that delivers operational efficiencies, cost savings and ubiquitous device access to location and messaging. The companys flagship Location eXchange Server and LocationAssurance Manager