URAC Announces Finalists for 2012 Awards for Best Practices in Health Care Consumer Empowerment and Protection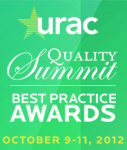 Washington, DC (PRWEB) May 01, 2012
URAC announced today that a distinguished panel of judges has selected 19 finalists for its 2012 Awards for Best Practices in Health Care Consumer Empowerment and Protection. The competition drew entries from across the nation. The finalists will be honored during URACs 2012 Quality Summit, October 9-11, 2012 in San Francisco, CA. The awards honor programs in two areas: Consumer Decision-Making and Consumer Health Improvement.
In a time of historic change in the health care industry, the Best Practices Awards provide an opportunity for leaders in health care to focus attention on those organizations who are delivering on the mission to advance consumer protection and empowerment, said Alan P. Spielman, President and CEO of URAC. URAC is honored to share these programs and raise awareness of innovative approaches to health care delivery and management that can be replicated across the industry.
Finalists in the 2012 Best Practices Awards competition are:

Project Ratings:
Related posts
Leave a Comment
You must be logged in to post a comment.