UserVoice Technology Integration with SugarCRM Lets Customers Keep Sales and Customer Support in Sync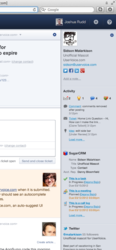 San Francisco, CA (PRWEB) April 24, 2012
UserVoice, the easiest customer service solution on the web, today announced the creation of a new technology integration with SugarCRM, the worlds fastest-growing customer relationship management (CRM) company. The new integration provides bi-directional data sharing between the two systems: customer service in UserVoice is enriched by instant access to sales and account activity from SugarCRM and all customer support requests and customer feedback originating in UserVoice are pushed to SugarCRM in real-time,allowing SugarCRM to capture a complete record of all customer activity. The announcement was made at SugarCRMs 6th annual SugarCon event, its annual customer, user and partner conference being held April 23-26, 2012 at The Palace Hotel in San Francisco, California.
The benefits of this new technology integration include:

Project Ratings:
Related posts
Leave a Comment
You must be logged in to post a comment.