Warrior Modules contains complete electronics for joystick
Need to connect simple devices to a computer, like relays, switches, or a small display, but the computer has no parallel port or that port is in use by some other device? Using USB used to mean that you had to develop specific code for a USB-enabled microcontroller, developing a unique driver with lots of documentation and using expensive development systems.  Using USB to serial adapters is not a good option either, since the adpaters don't have much intelligence and require a lot of programming.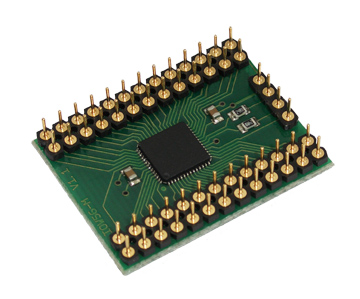 IO-Warrior56 offers a simple access to the USB since it has been designed as a generic HID device. The protocol is all in the IO-Warrior Chip. You only have to think about the I/O pins and with only a few simple lines of code to access them. IO-Warrior also supports a range of industrial standard interfaces to simplify interfacing to chips or modules. These interfaces are handled internally in IO-Warrior removing the bandwith-wasting control of individual pins.
Full Speed USB2.0-compliant interface (12MBit/sec)

50 general purpose I/O Pins, typ. 1000Hz rate (input or output)

I2C master function, 50, 100, or 400kHz

SPI master interface, up to 12MBit/sec, throughput up to 62Kbytes/sec

Controlling various display modules, including most graphic modules

Driving a up to 8×64 LED matrix• Supports a wide range of alphanumeric and graphic LCD modules

Driving a 8×8 switch or button matrix

Extended temperature range -10 to +85C

Also available as module or MLFP56 chip (10 pack or 260 pc tray – please inquire)

Software support for Mac(10.2 and up), Linux (Kernel 2.6), and Windows (2K/XP, not compatible with 98)

No USB knowledge necessary to use

Single +5V power supply (50mA operating, 25μA suspend)

Available in MLFP56 package or 100mil spaced through hole module.

Extended temperature range: -40°C to +85°C

Manufacturer Part Number:  IOW56-MOD
For more detail:Warrior Modules contains complete electronics for joystick

Project Ratings:
Related posts
Leave a Comment
You must be logged in to post a comment.