Introduction
Motivation
The goal of our project is to create a VGA video adapter. This "homemade video card" should be able to connect to any monitor that subscribes to VGA standards with a standard connector and display the desired material reliably. The challenges involved here stem from adapting a general use microprocessor that we are familiar with to a specific task that it may (or may not) be suited to. The project required the researching and understanding the VGA standard of how a picture is displayed on a computer screen, identifying the shortcomings or advantages of the MEGA644 processor in accomplishing this, development and fabrication of the necessary hardware to interface with the screen, and in converting images to a format that can be stored in memory and displayed on the microprocessor.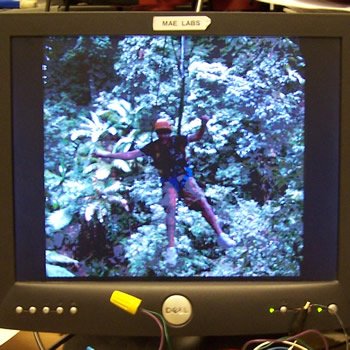 We divided our goals for this project into a progression of three different tasks, each building off of the previous one.
First, we wanted to display color bars on the screen, by means of direct output from the microcontroller to an analog circuit that transformed pin outs to VGA output.
Next, we wanted to display color bars or a static image to the screen, by means of triggering RGB outputs from static random-access memory (SRAM).
Finally, we wanted to render an animation or video to the screen, by means of triggering outputs from SRAM but also writing to SRAM live data simultaneously.
Our ultimate goal, originally, was to stream a live CCD camera to VGA output using our device. However, upon delivery of the CCD camera and studying its output, we observed very quickly that its transmitted signals were not suitable to be converted to VGA in the scope of the remaining time in our 5-week project. This will be described at greater length after a brief background about the standards and parameters relating to VGA.
While this is a "solved problem" by industry standards, it poses a number of interesting challenges to the inquiring student.
The clock speed of the processor versus the needed clock speed of the VGA standard (overclocking).
The onboard memory the MEGA644 has versus the needed memory (external memory).
The exact timing needed for the VGA output standard (cycle accuracy).
Fabrication of appropriate hardware to address shortcomings of the processor for the above tasks or in simply building hardware filters/interfaces for the VGA standard.
Low cost PCB on PCBWay - only $5 for 10 PCBs and FREE first order for new members
PCB Assembly service starts from $88 with Free shipping all around world + Free stencil
PCBWay 2nd PCB Design Contest