Password based door locking system
Password based door locking system, uses Matrix keypad to enter the password, This project is extended to operate on IR Remote RC-604, In this project all required data is given Circuit diagram, C code, PCB design and All related data, This project is based on AVR Atmega8 Microcontroller.
Features:
1. You can enter password through Keypad or IR Remote
2. Low Cost
3. Simple to design
4. Operates Two relays One for Buzzer and Another for Operating Motor
Step 1: Major Components Required
1. Atmega 8 Microcontroller
2. Relays, Switches
3. 4×3 Keypad Matrix
4. LM7805
5. BC548
6. 16×2 LCD Display
2. Download pdf PCB Layout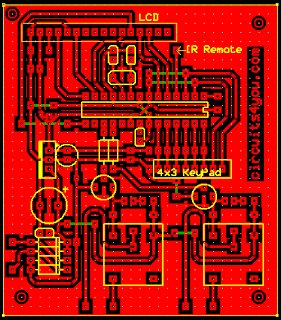 3. Assemble components using above files.
Project Ratings:
Related posts
Leave a Comment
You must be logged in to post a comment.