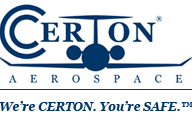 Melbourne, FL (PRWEB) October 07, 2011
CERTON is pleased to announce attendance at the 2011 National Business Aviation Association (NBAA) Annual Meeting & Convention, the world's largest civil aviation trade show. CERTON will be showcasing the innovative tools and services that have enabled them to experience extreme growth in 2011. CERTONs President and CEO, Tim Stockton states, Its been an awesome year in the aerospace industry, we are proud to have contributed to our customers success by helping them obtain FAA and EASA certification approval for their avionics products on time and within budget.
NBAA is the leading organization for companies that rely on general aviation aircraft to help make their businesses more efficient, productive and successful. The Association represents more than 8,000 companies and provides more than 100 products and services to the business aviation community. NBAA Member Companies earn annual revenues approaching $ 5 trillion a number that is about half the gross domestic product and employ more than 19 million people worldwide. The NBAA Annual Meeting & Convention is the world's largest display of civil aviation products and services.
CERTON will be exhibiting in booth C7636 and will be demonstrating their ability to achieve compliance with DO-178B and DO-254 certification guidelines using their patented technology within CertALIGN, CertTEST, and CertBENCH. CertALIGN::SafeModeler provides support for compliance with all Functional Requirement and High Level Signal objectives to reduce errors and ambiguity. It also supports review and traceability of the Functional Requirements to System & Design Requirements. CERTON will display CertBENCH::LRU which is a Fully Automated Software LRU and CCA test environment solution that works in conjunction with CertBENCH::CTB. Test Procedures are automatically executed against target hardware without writing any code, such as scripts and graphical languages. It supports LRU and/or CCA test execution driving inputs and monitoring outputs at the box level, board level, and/or processor pin level. CERTON will also display CertBENCH::PLD which is a Fully Automated Electronic Hardware PLD, FPGA, and ASIC test environment solution along with CertBENCH::CTB. Test Procedures in standardized template format are automatically executed without writing any code, such as scripts and graphical languages. It supports in-circuit test execution driving inputs and monitoring outputs at the box level, board level, and/or chip pin level for Pass/Fail determination against the operational requirements.
About CERTON

CERTON is a leader in safety-critical engineering services and solutions for customers across the Aerospace Industry. CERTON has developed specialized tools that streamline their ability to certify any safety-critical system and minimize the time-to-market of your product for a Firm-Fixed Cost. CERTON's primary focus is rapid certification of Airborne Software compliant with RTCA DO-178B guidelines and Airborne Electronic Hardware compliant with DO-254 guidelines. CERTON can work closely with you to ensure successful TSO and/or Type Certification for all Design Assurance Levels during any phase of your project lifecycle. CERTON has expertise with all aspects of Project Governance, Planning, Requirements, Design, Integration, Independent Verification & Validation, Tool Qualification, and the Stage of Involvement (SOI) Audits for FAA/EASA compliance.
Contact CERTON today at sales(at)certon(dot)com or visit their web site at http://www.CERTON.com to see how CERTON can reduce the overall cost of your avionics product and help you increase profits to gain market share on your competitors.
# # #