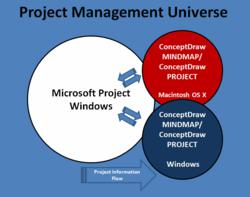 San Jose, CA (PRWEB) May 24, 2011
ConceptDraw MINDMAP v7 is a powerful mind mapping product that starts projects right. Effective brainstorming and requirements gathering from the project team is critical to getting things off of the ground. ConceptDraw MINDMAP on Macintosh or Windows can export to Microsoft Project data from a mind map; it can also import a project file from Microsoft Project giving team members a working visual map of a planned project.
The mind map format makes it easy to restructure project files and quickly discover status of phases, tasks and milestones using the report plug-ins available for ConceptDraw MINDMAP. ConceptDraw MINDMAP has many report plug-ins available to keep everyone up to date.
A mind map of project requirements visually represents the projects structure and can be quickly modified with a couple clicks in ConceptDraw PROJECT or exported to Microsoft Project. Using a mind map to start up projects is a quick and efficient way to get projects off of the ground. Mind maps when incorporated as part of the project planning methodology improve project outcomes, by simplifying planning and adding important contingency strategies.
ConceptDraw MINDMAP is a powerful planning tool that is closely integrated with ConceptDraw PROJECT; using ConceptDraw INGYRE2 technology, to rapidly move teams from planning to implementation. With the added ability of both ConceptDraw MINDMAP and ConceptDraw PROJECT of working with Microsoft Project .xml file format, the flexibility in usage scenarios has increased by an order of magnitude.
ConceptDraw MINDMAP and ConceptDraw PROJECT are powerful professional project management tools that increase productivity by improving team communication and providing timely project status.
Olin Reams, General Manager at CS Odessa comments, Project Managers and their teams can now mix PCs and Macintoshes with impunity, the amount of flexibility that this can bring to a project team is incredible. There are no barriers to how you can share project data. Couple the file flexibility of ConceptDraw MINDMAP with the many project solutions available in ConceptDraw Solution Park, and you can see the tremendous value that is in our products.
Pricing and Completive Upgrades Available
Availability of ConceptDraw MINDMAP v7 is immediate. ConceptDraw MINDMAP retails for $ 219 USD, competitive upgrades from other paid mind mapping products are available for $ 109 USD, contact CS Odessa sales for details on completive up grades of any quantity.
ConceptDraw Solution Park