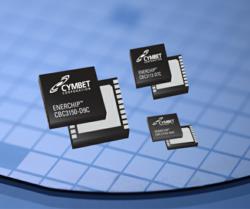 Minneapolis, MN (PRWEB) May 08, 2012
Cymbet Corporation announced today that they are teaming with Micross Components to distribute and package Cymbets entire family of EnerChip Smart Solid State Batteries and ultra low power management IC solutions in bare die form. Cymbets EnerChips are constructed on silicon wafers using semiconductor processing techniques which make them perfect for co-packaging with other Integrated Circuits carried on the Micross line card. Energy storage can now be embedded directly into a single miniature multi-chip package. Embedded energy opens up new innovative product capabilities that previously could not be realized with legacy energy storage devices.
Micross Components is an ideal partner for Cymbet as they specialize in bare die distribution and hi-reliability microelectronics component assembly and integration, said Bill Priesmeyer Cymbet CEO. The aim of Micross is to provide a single solution to a customers requirements and now they can offer integrated EnerChip batteries that will solve previously unmet needs.
EnerChips Go Where Batteries and Super Caps Can Not
The EnerChip Solid State batteries have a footprint as small as the CBC005 bare die that is 1.375mm by 0.85mm by 200 microns thick. CBC012 and CBC050 provide more energy storage in similarly small footprints. In addition, Micross will be offering the CBC910 EnerChip power management IC bare die that provides all the functions listed in the Cymbet EnerChip CC series of products. Background information on EnerChip bare die can be found at http://www.cymbet.com/products/embedded-energy.php.
We are extraordinarily pleased to have Cymbet as our embedded energy partner, said Tony Hamby Micross General Manager. Combining the EnerChip battery line with the wide range of components that we already offer in die format, enhances our ability to act as a comprehensive IC solutions provider to the high-reliability markets we supportdefense, space, medical, oil and energy exploration.
Evaluate EnerChips as Packaged Parts Before Designing with Bare Die
Cymbet makes it easy to experiment with EnerChip solid state batteries before utilizing bare die by using one of two EnerChip CC evaluation kits: