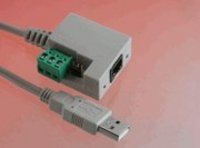 Menomonee Falls, WI (PRWEB) January 3, 2010
D&H Global Enterprise, LLC, a woman-owned company that designs and develops new technologies, has developed a USB to RJ-11 and three wire converter for the EIA-485 (RS-485) protocol.
The converter is an asynchronous USB to EIA-485 (RS-485) interface converter. It has a USB series A connector input, it supports two wire half duplex communication, auto baud rate sensing capabilities, open, or selectable 90 or 120 Ohm termination.
The converter is designed to replace older DB9 serial converters as it is increasingly difficult to find DB9 serial ports on new PCs. It is compatible with Windows and Linux operating systems.
It can be utilized in industrial controls, heating and cooling systems, PLCs, sound systems, lighting controls, building automation, etc.
About D&H Global Enterprise, LLC., (http://www.dh-global.com):

D&H Global Enterprise, LLC is a woman-owned company that has been providing quality products and services since 2003. D&H specializes in the design and production of microcontrollers, single board computers, converters, and FPGA-based products. The products mentioned above are modular with plug and play capabilities. We also offer custom product design to best fit your engineering needs. Our designs are primarily based on an open source, Linux platform; however, we do develop on the Windows platform. Additionally, reverse engineering services are available for obsolete products.
###