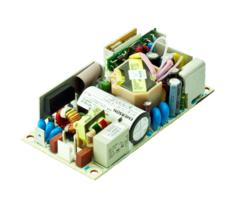 Carlsbad, CA (PRWEB) October 27, 2011
Emerson Network Power, a business of Emerson and the global leader in enabling Business-Critical Continuity, today announced the NPT42-M triple-output open-frame ac-dc power supply. The NPT42-M can deliver up to 45 watts with convection cooling and up to 55 watts with forced air cooling. It can accommodate operating temperatures from minus 20 to 50 degrees Celsius at full power and as high as 80 degrees Celsius with de-rating. Carrying a comprehensive set of worldwide IT equipment (ITE) and non-patient contact and non-patient critical medical safety approvals, the NPT42-M is suitable for a wide range of light industrial, instrumentation and process systems, as well as low-power dental and laboratory equipment. Featuring an industry standard 2 x 4 inch (51 x 102 mm) footprint, the power supply has a height of just 1 inch (25 mm), making it ideal for 1U high portable and rack-mounting equipment.
Emerson Network Powers new NPT42-M has a wide-range universal input capable of accommodating any ac voltage in the range 90 to 264 Vac, at any frequency from 47 to 440 Hz. It can also operate from any dc input in the range 127 to 300 Vdc, enabling it to be used virtually anywhere in the world. The NPT42-M power supply requires less than 74 W of input power, and inrush current is less than 50 A peak at 230 Vac input.
The power supply provides a triple output of +5 V, +12 V and -12 V. The main +5V output can deliver 5 A continuously with standard convection cooling, and up to 8 A with forced air cooling. The auxiliary +12 V and -12 V outputs can supply 2.5 A and 0.5 A respectively, increasing to 3 A and 0.7 A with forced air cooling. All three outputs are tightly regulated; the 5 V output is maintained to within plus or minus 2 percent for all normal line and load conditions, and has a maximum ripple of 50 mV peak-to-peak. Both 12 V outputs are regulated to within plus or minus 5 percent.
Emerson Network Powers NPT42-M power supply fully complies with the international EN 61000-3-2 standard for harmonic emissions. It features built-in EMI filters (CISPR 22 Class B) and meet rigorous international EMC standards, including FCC Class B, EN 55022 class B and VDE 0878PT3 Class B for conducted noise. Key safety design aspects include fuses in both the line and neutral connections, and a safety-ground leakage current which does not exceed 275