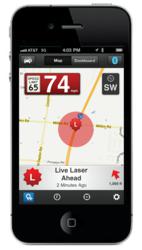 Las Vegas, NV, NAB Show (PRWEB) April 16, 2012
ESCORT Inc. (ESCORTinc.com), designer and manufacturer of the world's best premium automotive accessories, is presenting two of its new products at the 2012 NAB Show this week in Las Vegas the multi-award winning ESCORT Live real-time ticket protection network and ESCORTs first ever connected Mobile Digital TV receiver, ESCORT MobileTV. As new media platforms evolve, such as the iPad and smartphone technologies, we continue to develop new products that support consumers ever-increasing demands for more mobile options. Our new ESCORT MobileTV helps consumers watch TV while on the go, said John Larson, ESCORT President and CEO. MobileTV allows viewers to watch their favorite programs anytime and anywhere they choose.
ESCORTs new MobileTV product utilizes advanced digital technology developed by internationally acclaimed Siano and will be on display in the Siano NAB show booth (LVCC, North Hall, Booth N4537). ESCORTs MobileTV is a connected Mobile Digital TV (MDTV) receiver that quickly and easily allows consumers to receive digital TV on their WIFI-enabled smartphone, iPad or similar video-capable device while in moving vehicles. This ability to receive TV signals out of the air while traveling in rapidly moving vehicles is what makes ESCORTs MobileTV truly unique in the marketplace. Another major benefit of ESCORT MobileTV is that it does not use the devices data link for connectivity but instead receives MDTV through WIFI this helps reduce overall usage of the consumers data plan. Viewers wont miss anything while traveling with others as they choose from news, weather, sports, traffic, entertainment and more in over 46 major metro markets (and expanding).
In addition to being on the NAB show floor, ESCORT will be featuring its multi-award winning ESCORT Live social network for the road at this weeks major NAB press event, Showstoppers @ NAB 2012. ESCORT invites NAB press attendees to experience a personal demonstration of ESCORT Lives real-time threat and information sharing at the Showstoppers @ NAB 2012 press event, Monday, April 16, 6:00p.m. 7:30 p.m., in the Las Vegas Convention Center, S231.
Its widely known that ESCORT provides the most advanced radar and laser defense on the market, said Larson. Weve raised that bar with Escort Live and continue to redefine driving smarter with new technologies like Mobile TV.
ESCORT has seen its highly successful multi-award winning ESCORT Live ticket protection network continue to receive national accolades and awards. In addition to being included in Edmunds Top Ten New Products list, ESCORT Live has also been named a CES 2012 Innovations Design and Engineering Award winner as well as Best New Mobile Product at SEMA.