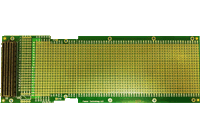 Katy, TX (PRWEB) May 25, 2012
Today, Faster Technology announces the release of the FM-PLPC, a development platform for FPGA Mezzanine Card Low Pin Count functions. The FM-PLPC is an FMC Prototype module which provides access to the complete LA bank of signals from the standard FMC Low Pin Count connector and the standard power rail and control signals.
As the number of FMC carrier cards grows, the need for a means to rapidly prototype applications increases. The FM-PLPC addresses this need by economically providing a significant amount of area arranged in a grid for soldering or wire-wrapping standard .1 spaced components and connectors . In addition, the outline for the standard single width Mezzanine module is printed in silkscreen which enables the FM-PLPC to easily be trimmed to standard FMC mechanical dimensions.
Key features of the FM-PLPC include: