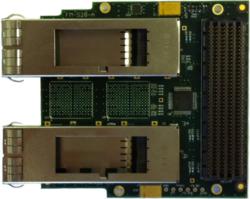 Katy, TX (PRWEB) October 17, 2011
Today, Faster Technology announces the release of the FM-S28, the latest in a line of low latency FMC Networking Interface products. The FM-S28 is a dual QSFP FMC module with two programmable reference clock generators which enables the support of a wide range of transceiver protocols. The clock generators have four jumper selectable default frequencies and can be programmed to various frequencies over an I2C bus.
Faster Technology strives to deliver products that provide the highest total bandwidth and lowest latency using the FMC form factor and connectivity standard; connectivity without compromise. "By building on the success of our quad and octal SFP FMC cards, we continue to push the envelope of what can be achieved within the FMC specification," says John McCaskill, President of Faster Technology. "Our customers demand the highest possible throughput with the lowest latency while also achieving high port density. The FM-S28 extends our lead in this area."
High throughput and low latency network interfaces such as the FM-S28 combined with high performance FPGA-based carrier cards enable system builders to offer solutions with extremely high performance computing capability at the very edge of the network connection. This is critical in application areas such as intrusion cyber-attack detection, financial analysis and trading decision systems with microsecond response to market changes, video monitoring with image pre-processing and general data aggregation and analysis.
Key features of the FM-S28 include: