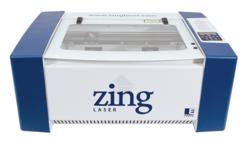 Golden, CO (Vocus/PRWEB) April 08, 2011
Epilog Laser, the leading producer of CO2 and fiber laser engraving and cutting systems, and Instructables.com are pleased to announce Max Justicz, Atlanta, is the grand-prize winner in the third installment of the highly-popular Epilog Challenge. Justicz will receive a new Epilog Zing 16 Laser engraving/cutting system for his inventive Arduino Powered Chess Playing Robot instructable. Justiczs winning entry was one of 465 instructables entered in the third Epilog Challenge. The contest was open to the worldwide Instructable community, from students to adults, scientists to home-inventors.
There are a huge number of chess-related projects in the Instructables community, but it can be difficult to find someone who plays on the same level you do, Justicz said. Computer chess really lacks the 3D visualizations that make playing so intriguing and captivating, so to solve this dilemma (and to increase my playing skills), I built this arduino powered chess playing robot.
Justicz says he plans to establish his entrepreneurial side when the laser is delivered. I plan on starting a small business by engraving laptops and cell phones, cutting solder stencils, and building custom enclosures for my projects, he said. Im so incredibly grateful that the Instructables community and Epilog have teamed up to make this possible. It's truly amazing that a high school kid can build something in his home and have it broadcast to the entire world. I really cannot describe how much this means.
To say I was blown away by Maxs entry would be an understatement, said Mike Dean, vice president of sales and marketing for Epilog Laser. The creativity, hard work, precision and skill that went into his instructable is admirable to say the least, and I am certain we will be seeing more interesting projects from Max with the help of the Epilog Zing Laser.
"I love seeing the variety of amazing, inspiring things the Instructables community can create!" said Eric Wilhelm, founder and CEO of Instructables. "I'm especially thrilled to be giving Max the Zing Laser, as he's clearly going to become an extraordinary engineer. I can't wait for the next Epilog Challenge!"
First prize winners include: Complete Circuit Board Lab & POV Business Card, Grenadier's Guide to High Voltage, and Pocket Laser Engraver. For more information on Epilog Laser, visit epiloglaser.com. To learn more about Instructables, and view entries and finalists, visit instructables.com/contest/epilog3/.
About Epilog Laser

Since 1988, Epilog Laser has been designing and manufacturing flying-optics-based CO2 and fiber laser systems that can engrave and cut wood, acrylic, plastic, fabric, rubber and many other materials. Epilog specializes in developing laser systems that create unprecedented marking and cutting quality on all types of products. The company produces versatile and reliable systems that are affordable and easy to use. For more information, visit

http://www.epiloglaser.com.
Press Contact for Epilog Laser:

Amy Dallman, Marketing Communications Specialist

303.277.1188

amyd(at)epiloglaser(dot)com
About Instructables.com:

Instructables is the most popular project-sharing community on the Internet. Since August 2005, Instructables has provided easy publishing tools to enable passionate, creative people to share their most innovative projects, recipes, skills, and ideas. Instructables has over 49,000 projects covering all subjects, including crafts, art, electronics, kids, home improvement, pets, outdoors, reuse, bikes, cars, robotics, food, decorating, woodworking, costuming, games, and life in general.
Press Contact for Instructables.com:

Christy Canida, Community and Marketing Director

510-931-5622

canida(at)instructables(dot)com
# # #