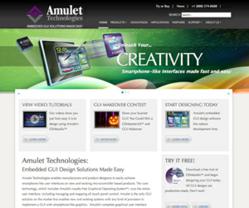 San Jose, Calif. (PRWEB) October 20, 2011
HiveMind Marketing, Inc. polished off the summer by delivering a new, audience-centric website to embedded GUI specialist Amulet Technologies. The new website replaces a tired one built nearly 10 years prior, with fresh positioning and branding, bright creative, and a more complete and logical information architecture. The new site provides easier access to product and technical information to support the companys fast growing customer base, and to attract new clients looking for a new technology to create and drive smartphone-like Graphical User Interfaces.
We always try to blend strategy, technology, and creativity to help companies shift market perceptions to increase the quality and quantity of their sales leads, said Tom Lauck, CEO and Chief Creative Officer of HiveMind Marketing. This new website will definitely get Amulet noticed. More importantly, it will give them the respect and credibility they deserve within their target markets.
The compelling and result-focused Amulet website resonates with key target audiences, stimulating trials of starter kits and their GUI design software, GEMStudio. Built on the popular open-source Joomla CMS, it enables non-technical staff at Amulet to easily add content and make changes, as well as take advantage of additional functionality — such as ecommerce, social media, communities, and more — that the company may want to implement in the future.
Alex Velasquez, Marketing Manager at Amulet Technologies, summarizes the project in this way: "It was time for us to improve our web presence. Over the past 6 years, weve grown substantially and now provide a broader range of embedded GUI solutions to a rapidly growing customer base. We needed our website to reflect the evolution of Amulet Technologies as a key player in the embedded GUI market, offering solutions to a wide range of industries and applications.
About Amulet Technologies

As a recognized leader in high-performance embedded graphical user interface solutions, Amulet enables product designers to easily achieve smartphone-like interfaces on new and existing microcontroller based products. Amulets innovative GUI development tools reduce development time down to days or weeks, instead of months. This allows for the many design iterations that are required to create the most dynamic user experience possible. With production hardware solutions ranging from chips and boards to fully integrated modules, the flexibility is nearly endless. Learn more at http://www.AmuletTechnologies.com.
About HiveMind Marketing, Inc.

HiveMind Marketing blends strategy, technology, and creativity to build interconnected marketing programs that help companies shift market perceptions to increase the quality and quantity of sales leads.
This is particularly important in the two industry sectors where HiveMind Marketing focuses its energy: biomedical and high technology where fast, effective, contact-to-lead-to-customer transitions and optimization of marketing technology is central to business success.

In the end, HiveMind Marketing helps businesses in these industries get noticed in ways that drive performance.
HiveMind Marketing's unique blend of intelligent strategy, critical technology, and connected creativity enables companies to more systematically define business-building challenges and develop unique insights into audience needs and market perceptions. Because of this, HiveMind is better equipped than most agencies to implement practical and realistic programs that deliver measurable results: Websites generate more and better leads. Email campaigns drive greater response and engagement. Search delivers increased traffic of a higher quality. And, a circular plan-implement-evaluate-optimize cycle ensures continuous improvement.
With offices at 111 North Market, San Jose, California, in the heart of Silicon Valley, HiveMind Marketing has been helping clients get noticed and meet their business-building challenges for well over a decade through the leadership of its principal, Tom Lauck. For more information, please visit http://www.hivemindinc.com.
###





Related Microcontroller Press Releases