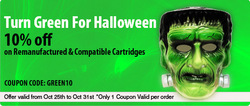 (Vocus) October 26, 2010
It is easier to have a Green Halloween now that Inkjetsuperstore Canada has a 10% discount on all remanufactured and compatible ink and toner cartridges in stock. Aftermarket alternative cartridges for most popular printer brands.
Going Green for Halloween takes more than dressing up as Hulk or Green Gobbling; printing practices can be green by using ecological minded ink cartridges and toner cartridges. "Having an ongoing environmental stand even on festivities is important and we want everybody to Go Green for Halloween," stated Flavia Torena IJJS Canada CS Rep. "A lot of people prefer remanufactured and compatible cartridges not only because they are of great quality but also because they help to keep them off waste fields and it is a great way to contribute towards a better environment," continued Flavia.
Last week Inkjetsuperstore Canada prepared a Free downloadable Halloween Kit to get prepared with style and it has a ready to print Halloween checklist, printing tips, safety tips, and an extra special Halloween quick link guide for great Halloween preparations, how to guides for cards, masks, patterns, printable coupons and more.
This week they are dressing up as Frankenstein and going green by providing a 10% discount sale on remanufactured and compatible ink and toner cartridges for major brands such as Lexmark, HP, Brother, Samsung, Xerox, Canon, Dell, Epson, Kodak and Toshiba and that is only half of the brands Inkjetsuperstore Canada has compatible ink cartridges on stock.
Their IJSS branded remanufactured and compatible cartridges are from ISO- 9001 certified factories that recycle and remanufacture cartridges passing them through a reliability verification test of the cartridge housing, checking the integrated nozzle, electronics circuits and then replace the drum to finish up by filling with exacting ink or toner formulations. One big difference between aftermarket alternatives and OEM cartridges is the fact that by using remanufactured printer cartridges people help save the environment and making a stand towards better green printing practices.
About InkjetSuperstore Canada:

InkjetSuperstore Canada is an online reseller of ink cartridges delivering to all Canadian territory. They offer remanufactured, compatible, and OEM cartridges from all major brands. Over 700.000 choose them for their ink and toner needs. InkjetSuperstore Canada backs all their remanufactured products with a 100% Satisfaction guarantee. To purchase right now go to http://www.inkjetsuperstore.ca.
###







Related Electronic Circuits Press Releases