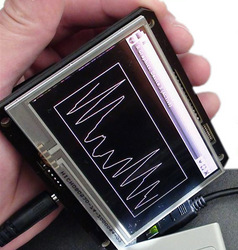 Canton, MA (PRWEB) August 5, 2010
With the growing popularity of Open Source Hardware, Liquidware announces the first 100% Open Source Hardware and Open Source Software Scientific Calculator. Based on Linux, Arduino, and the BeagleBoard design specifications, the Open SciCal X101 brings modularity and customization handheld scientific calculators and research aids.
Sales of scientific and graphing calculators have gradually declined in recent years, and the market has seen few, if any, new product model introductions from the market leaders, including Hewlett Packard, Texas Instruments, and Sharp.
Says Justin Huynh, Liquidware's director of product development: In the last 15 years, the rate of innovation in handheld calculating devices has slowed dramatically. In the 1990s, new calculator models were launched on average once every 14-18 months. These rates represented a so-called Moores Law for Calculators. Each successive generation had larger RAM, ROM, more functionality, and a more extensive programming language set.
But on the heels of mega-trends such as open architecture and device convergence, the dedicated calculator handheld is becoming a gadget of the past. In its place, iPhones, Android, and Blackberry platforms each support apps which replicate many of the functions of standard graphing calculators. While calculators were once ubiquitous in education, academia, industry, and finance, modern technology trends have placed calculators with proprietary operating systems at a severe disadvantage.
On the desktop, we see increasingly powerful applications, while on the handheld, we see features growing to replicate calculator functionality. The devices we once knew as calculators are becoming obsolete. Calculators as we know them must deliver value and experience that cannot be achieved on the desktop or handheld, or they will disappear.
Liquidware believes it has found just that missing link. Its scientific calculator platform is built from the ground up on open designs, and open source software. Rather than forcing new programming languages and paradigms on its users, it encourages its users to write in native, familiar programming languages such as C, Perl, Scientific Python, or R. R is an advanced statistical programming language popularized in fields of research including biology, mathematics, advanced physics, neuroscience, and economics.
The Liquidware Open SciCal X101 delivers more than standard mathematical features. Within minutes, it can be converted into a field data logger or scientific sensor data collection unit for biopharma, scientific, or defense research. Built entirely around the Linux operating system and Arduino platform, sensors may be integrated directly into the calculator over built-in serial ports. Software is included to read each of 6 different types of sensors, and programming guides help users access servos, new sensors, or proprietary industrial design control systems.
It was our goal to build the perfect post-convergence calculator. One thats earned its place alongside desktop spreadsheet programs, and cell phone OS calculator ROM clones. With the communitys help, we present the first truly hackable, open hardware-based scientific calculator that natively supports data logging with over a dozen sensors out of the box.
The Liquidware Open SciCal X101 is available as a kit from http://www.liquidware.com, or fully assembled by any number of resellers and distributors.
About Liquidware
Liquidware is one of the fastest growing engineering firms, specializing in high speed, lower power embedded systems product design, rapid prototyping of medical devices, parallel systems, and defense engineering.
Liquidware is also one of the most widely recognized organizations of Open Source Hardware hackers. Based in Boston, MA, Liquidware has three primary lines of business: high end medical device development, defense systems engineering, and Open Source Hardware design. Liquidwares hardware has been used by some of the worlds leading research institutions, consumer product firms, and is deployed in field operations worldwide.
Trademarks
OMAP and Beagle Board are trademarks of Texas Instruments. ARM is a trademark of ARM Limited. All other trademarks and registered trademarks are the property of their respective owners.
Editorial Contact for Liquidware
Justin Huynh
Liquidware, Press Manager
(646) 835-9728
liquidware.press(at)gmail(dot)com
http://www.liquidware.com
###

Find More Arduino Servo Press Releases