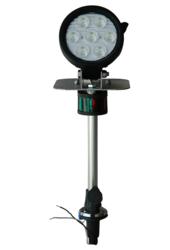 Kemp, TX (PRWEB) September 07, 2011
The Magnalight LEDLB-21-S-E LED Light Emitter on Perko Pole Mount provides boaters with an efficient and effective way to mount a powerful LED spotlight on almost any boat, whether its a 13 foot skiff or 30 foot cruiser. Producing 1,750 lumens, this compact yet powerful LED light emitter produces an unusually tight spotlight beam capable of reaching distances up to 675 feet in length. While most LED spotlights produce a beam that tends to become wide and washed out at the extreme end of their throw, the beam pattern on this unit more closely resembles that of an HID spotlight and retains good focus all the way through its range. Mounted atop a Standard Perko Stanchion Mount that includes a standard red and green running light assembly which is USCG 1 NM certified, this unit is easily mounted to any standard Perko socket and can simply be removed and stored when the boating season is over.
The Perko Stanchion Mount has 2 gold plated connectors embedded in its nylon base to bring power up from the Perko socket and a nylon locking socket to secure the unit once installed. The design of this light and mounting system allows the running lights to remain on whenever power is present at the mount, yet allows the spotlight to be operated independently. This LED fixture is designed to operate on 12 volts DC and draws only 1.6 amps, making it a highly efficient yet powerful light source that outperforms traditional incandescent spotlights by using less than half the amount of power to produce the same amount of light output.
The LED light fixture on this unit contains seven Edison Edixeon