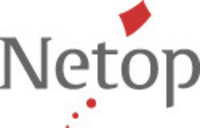 Chicago, IL (PRWEB) April 5, 2011
Netop, the most trusted name in remote control, today unveiled a new version of Netop Remote Control, bringing the next generation of enterprise remote support to IT administrators around the world. More than half of Fortune 100 companies already turn to Netop Remote Control for the most secure, trusted, scalable remote solution on the market. Now with improved performance, Netop Remote Control 10 offers the widest platform support and the highest security standards, providing a comprehensive remote support and management solution designed to meet the challenging needs of enterprise environments.
"IT managers are constantly telling us that security is their top concern and they are looking for high-performing remote management solutions to ensure their networks and data are protected," said Kurt Bager, CEO, Netop. "Netop Remote Control 10 will help them meet these important management goals and, at the same time, is quick and easy to implement and manage and will provide support for the wide array of platforms that are part of today's enterprise environments."
With the widest support for platforms, Netop Remote Control 10 enables IT managers to support all of their users and systems with one comprehensive enterprise-wide solution. In this newest version of Netop's remote management solution, the company has added support for virtualized desktop infrastructures (VDI), allowing them to support VDI users seamlessly. Version 10 also offers full cross-platform support for all the latest Windows, Mac and Linux platforms.
Recognizing that security compliance is a top priority for today's IT administrators, Netop has introduced new features in Netop Remote Control 10 that make achieving the highest security standards easier. New features offer more flexibility when using Active Directory and make setting up and administering the Security Server faster and more user-friendly. Additional controls help IT administrators prevent unauthorized access to sensitive computers. And new functions make Netop Remote Control 10 ideal for large industrial sites with expensive PC-embedded equipment, while providing senior executives greater personal control over their computers.
Upgrades to Netop Remote Control 10 are free to existing customers with current Netop annual support and upgrade agreements. For more information or to request a free 30-day trial of Netop Remote Control 10, visit http://www.netop.com or click here to chat directly with Netop.
About Netop Solutions A/S

Netop develops and sells software solutions that enable swift, secure and seamless transfer of video, screens, sounds and data between two or more computers. The company has three business areas: Administration, Education and Communication.

Netop's industry-leading Remote Control Administration solution, used by more than half of the Fortune 100, is the most secure, trusted and scalable remote support solution on the market today. In Education, Netop is the world leader in classroom management software, helping teachers in 75 countries make teaching with technology easier and more effective. And in Communication, Netop Live Guide is the rich media chat solution that helps companies provide better customer service, increase efficiency and turn website visitors into customers.
Headquartered in Denmark, Netop employs 130 people and has subsidiaries in the United States, Great Britain, Romania and Switzerland. The company sells its solutions to public and private clients in more than 80 countries. Netop Solutions A/S shares are listed on the Copenhagen Stock Exchange OMX. Read more at: http://www.netop.com.
###







More Embedded System Press Releases