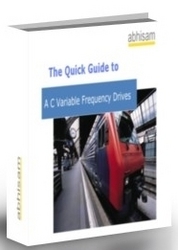 Miami, FL (PRWEB) October 25, 2010
Abhisam Software, a leading e-learning course provider, is pleased to announce the release of its ebook titled "The Quick Guide to AC Variable Frequency Drives." This ebook is meant as an easy guide to engineers, technicians and other technical professionals, who would like to know how modern ac variable frequency drives work in practice. Variable Frequency Drives (VFDs for short), also known by other names such as Variable Speed Drives, Adjustable Speed Drives, Inverter Drives, or simply as VFD drives, are seeing increasing adoption by a host of industries and business establishments. The drive towards saving energy costs is a big factor in the increased usage of VFDs. Other factors that have endeared VFDs to users are the ease of use, sophisticated functionality, precision control of ac motors, integration with communication networks and industrial control systems such as PLC/ SCADA / DCS systems and Building Automation Systems.
Modern industrial society is driven mainly by electrical energy. A large proportion of this electrical energy is used to drive ac induction motors. A properly designed VFD-motor combination can therefore not only offer energy savings, but also result in significantly better controls. These in turn lead to several tangible benefits such as productivity improvement, lesser costs, ease of operation and transparency.
Unfortunately, even as VFD technology continues to progress by leaps and bounds every year, the amount of real world, vendor neutral and usable information, that a typical user of VFDs needs, is simply not easily available. There are very few choices-one is either to refer to a few published books (which are actually obsolete, as they were written years ago), or to depend on the VFD vendors themselves for the information. Another alternative is to search the internet to find nuggets of information here and there, but it is a time consuming process, without any meaningful results at the end of the search and with no guarantee that the information is genuine or trusted.
Hence, to address this urgent need for a comprehensive, detailed, vendor-neutral, technology focused, yet easy to read guidebook on AC Variable Frequency Drives, Abhisam Software has introduced this ebook named as "The Quick Guide to AC Variable Frequency Drives". This ebook covers almost everything that is practically needed for a typical engineer, technician or other technical professional, to understand how VFDs work, as well as how to select, use and install them in common applications. Since this ebook is vendor neutral, the reader can be assured that is completely unbiased. The easy to understand color graphics, charts and diagrams make reading the book an enjoyable experience.
The ebook has SIX chapters that cover all aspects of VFDs which include basic concepts related to ac induction motors and their controls, explanation of working of various circuits and components in VFDs such as inverter circuits and IGBTs, explanation of various VFD functions such as Vector Control, Direct Torque Control, anti-windmill control, dynamic braking and many more, explanation of energy savings schemes by using VFDs, specifiying, selecting and installing VFDs and finally using VFDs with DCS & PLC systems.
This ebook is being offered at a very low introductory price of $ 27 US, so that it is affordable to everybody. To make matters simpler, a free trial of the entire ebook is available for all at the Abhisam Software website. Click here to download the free trial.
Everything is explained in very easy to understand language, so that users of VFDs need not feel that they are reading a PhD thesis. The added color diagrams and graphics make reading it a pleasurable experience. There is no fluff or filler, only useful information is included.
To make the buy decision simpler, a full trial preview, that allows the full download of this ebook, is available at the Abhisam Software website.
About Abhisam Software:

Abhisam Software is a knowledge based company engaged in providing e-learning courses, e-books and training for engineers, technicians and other professionals in a diverse range of industries and sectors all over the world. Abhisam Software's courses and ebooks are vendor neutral and purely based on technology, geared towards the end user in mind. For more information please visit http://www.abhisam.com.
# # #