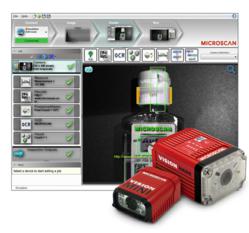 Renton, WA (PRWEB) February 23, 2012
Microscans AutoVISION technology aims to simplify the set-up and deployment of machine vision applications while providing users with a powerful tool set for reliable, high performance inspection and identification. Microscan continues to improve the line, with the addition of new hardware configurations and a recent update to the software interface, adding increased functionality and improved usability to the product family.
The new release of AutoVISION software includes several feature enhancements, including faster OCR and Locate Tools as well as a web-based HMI terminal window. The scalable platform can now be migrated to PC-based cameras such as GigE, allowing users to set up jobs in AutoVISION and later transfer them to a PC-based solution. In addition, the AutoVISION 1.1 release includes usability improvements to its OCR library, support for 64-bit Windows 7, and serial match code input via serial port or Ethernet.
New hardware updates on the compact Vision HAWK and Vision MINI smart cameras further extend the range of applications that can be accomplished with the AutoVISION family. A C-mount Vision HAWK configuration accommodates applications that require the flexibility of an external lens and lighting. Like the integrated model, this industrial smart camera features a rugged design and industrial protocols to meet the needs of a wide variety of applications. The new WVGA Vision MINI smart camera includes a global shutter for high speed operations. As the worlds smallest fully- integrated vision system, the Vision MINI is ideal for embedded applications or space-constrained production lines. Both the Vision HAWK and the Vision MINI can be operated by either Microscans intuitive AutoVISION software or the more advanced Visionscape