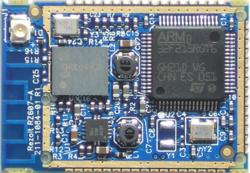 Yokohama, Japan (PRWEB) October 26, 2011
ReZolt Corporation, a provider of end-to-end OEM solutions that enable smart devices and sensors, today launched Em-Fi, an embedded Wi-Fi platform that will allow OEMs to rapidly and cost-effectively add low-power Wi-Fi* networking to their deeply embedded devices and get to market quickly with an end-to-end solution using ReZoltNetTM.
Deeply embedded devices are characterized by low processing power, small memories and limited or no direct user interface. Many of them are connected with wires to local control systems using legacy protocols. OEMs wanting to add wireless connectivity to these devices are challenged with high engineering cost and development time due to the lack of a common software framework and availability of an end-to-end solution.
Em-Fi Platform addresses these challenges with a customer-focused solution that combines RZ607AMOD Em-Fi Module with comprehensive and feature-rich Em-Fi Software as well as ReZoltNet.
ReZolt recognized the OEM need for an embedded Wi-Fi platform that went beyond just the hardware module said Vijay Parmar, President and CEO of ReZolt Corporation. We focused on a platform that coupled the hardware with feature-rich, easy to use software and a web-based device and sensor management system. With Em-Fi, OEMs looking to add Wi-Fi networking to their devices now can develop a complete solution that can be rapidly deployed with a significantly lower investment.
RZ607AMOD Em-Fi Module includes Broadcom BCM4319 Wi-Fi chip inside a Murata SiP (System in a Package) delivering great RF performance and complete Wi-Fi functionality. RZ607AMOD contains 802.11 b/g/n RF, baseband and MAC functionality that preserve 802.11g and 802.11n network throughput while ensuring compatibility with Wi-Fi networks at homes and in enterprises as they transition away from the legacy 802.11 and 802.11b support. It also includes STM32F205 ARM Cortex M3 microcontroller with rich interfaces and low power.
Em-Fi Software is highly modular and easy to use. It is feature-rich including embedded middleware such as power management, battery check, timers, over the air firmware upgrade as well networking middleware such as SSL/TLS engine, XML Parser, HTTP(S) server and client, DHCP server, FTP client and Wi-Fi middleware such as WPS and Soft AP. These features are packed in a small memory footprint leaving significant amount of memory and processor bandwidth for the customer applications.
OEM customers developing products using the Em-Fi Platform have an immediate access to ReZoltNet, a cloud-based device and sensor management system. This will allow them to develop an end-to-end solution with significantly lower development cost and time.
RZ607AEVK Evaluation Kit and RZ607ASDK Software Development Kit include RZ807AREF Evaluation Board that contains temperature, humidity and light sensors and is integrated with ReZoltNet to simplify provisioning, firmware upgrade and monitoring. It includes several interfaces such UART, USNAP SPI, USNAP UART, and USBs to aid customer evaluation and development.
ReZolt provides engineering services to assist customers with their Em-Fi based product development as well as for ReZoltNet customization.
Availability

RZ607AEVK, RZ607ASDK and RZ607AMOD engineering samples are available immediately with RZ607AMOD production expected in Q1 2012.
ReZolt at Smart City, Yokohama, Japan

ReZolt is exhibiting at the Smart City show at Pacifico Yokohama, Japan from October 26th through 28. Em-Fi Platform will be on display at the ReZolt booth in the JETRO zone.
About ReZolt

ReZolt