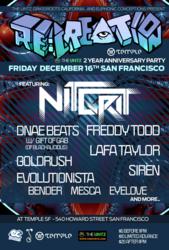 San Francisco, CA (PRWEB) December 10, 2011
Get your bass face on and hip-hop on over to Temple at 10 pm on Friday, December 16 for Re:Creation, the art and music electronicarnival that fills the expansive San Francisco nightclub each month. First introduced in the city last July, Re:Creation showcases both rising local and nationally established musicians, plus a plethora of live painters and local vendors.
Although glitch and dubstep reign supreme at Re:Creation, this monthly San Francisco event mixes it up with heavy doses of hip-hop, house, electroa bit of everythingto appeal to diverse groups of music and art lovers. Limited discounted tickets are available now at http://recreation1216.eventbrite.com/.
NiT GRiT produces a very bass-heavy, intricate sound; his stage presence radiates a high energy level that might have you involuntarily jumping on the dancefloor, said Josh Pollack of Euphonic Conceptions, who along with David Sheldon is the co-creator of Re:Creation. This is a great chance to catch NiT GRiT in a smaller, more intimate spaceas he will surely fill up much larger venues in the upcoming year.
DNAEBEATS is another local SF producer who is known for his original material. Rooted in hip-hop, his popular uptempo, dancefloor-friendly musicoften described as street bass laced with elements of juke and blaphas secured him a monthly spot at Re:Creation. This month, hes joined by very special guest, Gift of Gab of Blackalicious, who will be rapping over some timeless classics in addition to brand new material.
Coming out of Detroit, Freddy Todds glitch-heavy sounds span the emotions, starting out sexy and getting grimy in a hurry. Pollack believes Freddy Todd is going to be making some serious waves over the next year.
Goldrush is another young producer on the bill who is making waves down in SoCal, and has quickly become a fan favorite from frequent appearances on the West Coast festival circuit as well as Burning Man.
For more information about Re:Creation, contact Euphonic Conceptions at ecpresents(at)gmail(dot)com. For more information about Temple nightclub, contact the San Francisco live music and event space at (415) 529-4303 or go to templesf.com.
About the Zen Compound

The Zen Compound is an entertainment complex housing Temple Nightclub, Ki Sushi, TMG Recording Studios, Temple TV and ZCFM Radio, all with a sustainable focus.
Temple Nightclub is one of the most popular San Francisco dance clubs. The San Francisco event space is a true architectural gem. Filled with original unique antiquities from Southeast Asia, Temple offers 20,000 square feet of space, which can accommodate 1,100 guests on two levels. Its four beautiful rooms, each with its own unique atmosphere, can be booked separately or in combinations.
Because it is surrounded by some of the citys finest hotels and is just two blocks from Moscone Center, Temple is one of the most convenient San Francisco event locations for wedding receptions, benefits, fashion shows, product launches and corporate functions.
The sales staff can assist with full event production and party planningfrom small intimate dinners to luxurious larger-than-life gala events. Food service can be arranged from local restaurants and caterers or from Temples in-house sushi restaurant, Ki.
Ki is the premier San Francisco sustainable sushi restaurant and izakaya bar, and executive chef Isamu Kanai is the creative force behind the success of the restaurant. Isamu's wealth of knowledge and expertise, along with his creative approach to fusion and fine dining, ensures each client is satisfied with every event.
# # #







More Electronic Circuits Press Releases