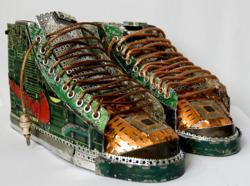 San Francisco, CA (PRWEB) January 11, 2012
On Jan. 12, join RobotSpeak, a certified San Francisco electronic music school, as the California Academy of Sciences opens its doors for a themed cocktail party where creatures, cocktails and music mingle. Together with the Academy, RobotSpeak will offer hands on, beat-making scenarios for this event, located at Golden Gate Park, from 6 to 10 p.m. Experience and learn the basics of how to play different musical instruments, take Dj classes or discover the various beat-making possibilities displayed by RobotSpeak. Stop by RobotSpeaks booth for a hands on, rhythmic experience for every level, including a basic level for people who have an understanding of how to make beats and a beginning level for those with no clue.
We are ready to cover a bunch of beat-making scenarios, from basic and cheap to high end, including the iMachine, an iPhone application; various iPad apps that do synthesis; a couple Korg Monotribes synched; Native Instruments Machine and more. If you are beyond these, we will cover one of the pro scenarios at RobotSpeak, The Tempest, which is the analog drum machine collaboration from Dave Smith Instruments and Roger Linn, Steve Taormina of RobotSpeak said.
RobotSpeak will also begin 2012 with a full roster of music-related classes, and by popular demand, RobotSpeak is bringing back Ableton Live 101 with Nathan Blaz. Sessions will be held on Jan. 30, Feb. 1, Feb. 6 and Feb. 8 from 7 to 9 p.m., and will cost $ 250 for four, two-hour classes.
Dmitris second round of circuit bending classes will also be available at RobotSpeak on February 11, Feb. 18, February 25 from 1-4 p.m. The class costs $ 285 and covers how to house, place added controls, switches, knobs, how to circuit bend and other topics. Circuit bending is the art of rewiring and short-circuiting a device to create an entirely new sound.
For more information about any of RobotSpeaks products or services, call 415-230-0840, view the school on the web at http://www.robotspeak.com, or visit 589 1/2 Haight St. in San Francisco on Wednesdays from 12 to 6 p.m., Fridays from 11 a.m. to 7 p.m. or Saturdays from 12 to 6 p.m. Also available by appointment. Please call the shop for details.
About RobotSpeak
RobotSpeak is a San Francisco music production school that specializes in teaching basic to advance electronic music, such as handling different Dj equipment to learning music production. RobotSpeaks classes are designed to empower the home and project-studio musician with real-world skills, enabling them to make better music now with gear they actually own.
###





Find More Electronic Circuits Press Releases