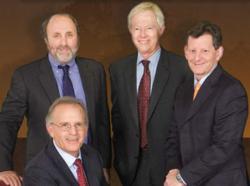 San Francisco, CA (Vocus/PRWEB) April 20, 2011
The San Francisco, CA law firm of Casper, Meadows, Schwartz & Cook recently launched their website, providing a valuable online legal resource to current and potential clients.
The site offers helpful information to remove some of the fear and uncertainty from the legal process, including basic information on San Francisco trucking accidents.
The team of Casper, Meadows, Schwartz & Cook has served clients throughout California, especially the San Francisco Bay Area. Our experienced truck accident attorneys have produced successful results for many clients for more than 30 years and may be able to do the same for you. We are highly credentialed and respected in the legal community for our abilities as trucking accident lawyers.
Casper, Meadows, Schwartz & Cook recently settled three cases, which totaled more than nine million dollars, involving trucking personal injury cases. The first case involved a 61-year-old grandmother who was hospitalized with a traumatic brain injury after a semi-truck rear-ended the SUV in which she was a passenger [ref: San Joaquin County Superior Court Case number 39-2009-00215811-CU-PA-STK]. The second settlement involved the wrongful death of a 5-year-old kindergarten student who was hit in a crosswalk by a truck driver and killed [ref: Alameda County Superior Court Case Number RG-09-469661]. The third case involved a distracted truck driver who ran over a bicyclist [ref: Solano County Superior Court Case Number: FC5033644].
Casper, Meadows, Schwartz & Cook comprise a knowledgeable team of lawyers and staff members. Four of our attorneys are AV(R) Preeminent(TM) Peer Review Rated(SM) by Martindale-Hubbell(R) and have been listed in Northern California Super Lawyers every year since 2004. Attorneys at this prestigious and highly experienced law firm focus primarily in the following areas:


Truck Accidents
Violations of Trucking Law
Sacramento Truck Accidents
Hazardous Cargo
Improper Loading
Casper, Meadows, Schwartz & Cook specialize in complex truck accidents, personal injury and wrongful death cases. The attorneys stay up to date on State and Federal traffic laws and have the experience to understand causes of truck accidents.
Founded in 1979, the lawyers at Casper, Meadows, Schwartz & Cook have more than 30 years of experience. The firm serves clients throughout Northern California including the San Francisco Bay area. For more information about the firm, please go to http://www.trucklawattorneys.com/contact-us/ or call (925) 947-1147.
# # #





Find More Avr Press Releases