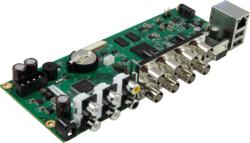 Sunnyvale, California (PRWEB) February 29, 2012
Stretch Inc., the pioneer and leader in software configurable processors, today announced the release of its VRM7008 standalone DVR reference design kit. Featuring the powerful yet highly cost effective S7110 software configurable processor, the design is able to capture and compress 8 channels of D1 video using the Stretch H.264 High Profile CODEC. The VRM7008 is a single board DVR design with both VGA and standard definition CVBS outputs, as well as BNC connectors for all video input soldered directly to the board. This removes the need for a separate back panel and dramatically reduces system costs.
The VRM7008 was designed from the ground up with low cost in mind, commented Mark Oliver, Stretch director of product marketing. The S7110 processor delivers unprecedented performance to this standalone platform, yet its low cost 17x17mm package and high levels of integration keep system costs to an absolute minimum. The VRM7008 delivers D1 performance at a price point hitherto associated with CIF products.
The VRM7008 makes full use of the high levels of integration found in the S7110 software configurable processor. It features dual USB ports to allow direct connection of a keyboard and mouse to the system while a 10/100 Ethernet port allows connection of the unit to a network for remote video monitoring. Also included is a built in SATA port that allows the connection of a disk drive for local storage of captured video. The VRM7008 features a Linux operating system running on the S7110s embedded ARM processor, speeding the porting of host application software and further reducing system costs by removing the need for an additional host processor.
The VRM7008 is compatible with the same software development kit found across all Stretch surveillance products giving it access to the full portfolio of CODECs and image processing algorithms, including the Stretch H.264 High Profile and Scalable Video CODECs. This maximizes code re-use and speeds time to market. The VRM7008 sets a new benchmark for the surveillance industry, continued Mark Oliver. A fully featured, single board standalone DVR, it provides OEMs with a fast time to market for a high performance 8 channel product at a price point that is unbeatable in the industry.
The VRM7008 reference design is available as either an Evaluation Kit (EVK) or in high volume multi-unit packaging to OEMs. EVKs are intended for evaluation purposes. They contain source code for the card firmware (with the exception of the Intelligent Encoder that is delivered in object code) and produce watermarked streams.
The VRM7008 reference design is available immediately. For more information and pricing, please contact sales(at)stretchinc(dot)com.
About Stretch

Stretch Inc. is the world leader in software configurable processors, the first to embed programmable logic within the processor. Using familiar C/C++ programming tools, system developers automatically configure Stretchs off-the-shelf processors to achieve extraordinary performance, easy and rapid development, significant cost savings, and flexibility to address diverse markets and changing application needs. Stretch devices are used in video processing, machine vision and wireless applications worldwide. For more information, visit http://www.stretchinc.com.
Stretch and the Stretch logo are registered trademarks of Stretch Inc.
###





Related Embedded System Press Releases