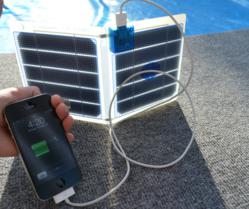 San Jose, CA (PRWEB) December 01, 2011
Customers looking for an iPhone solar charger that provides both instant usage and charging have increased their demand for the sCharger-5 and Suntactics (http://www.suntactics.com) is now making it available on Buy.com (http://www.buy.com) , The Internet Superstore and leading online retailer. The growing Buy.com Marketplace features an array of specialty third-party retailers and unique product selections to meet growing customer demand. Consumer interest in online shopping is increasing tremendously and Buy.com is truly a one-stop online destination for everything consumers are looking to buy this holiday season.
Customers who own USB-chargeable device including, iPad, iPod, iPhone, Droid, Blackberry, Palm, GPSs, eReaders, and all portable gaming devices require a powerful solar charger like the sCharger-5 to provide both instant usage and charging. It charges most all devices as quickly as a wall charger does. The sCharger-5 runs dead devices while charging at the same time from just the sun. The ability to charge devices so quickly while remaining operational comes from the sCharger-5s compact, high efficiency, solar array. It meets Today's and Future needs for more powerful devices and device applications.
The sCharger-5 also features an efficient circuit design that helps continuously maximize the available solar energy from the sun for solar charging. It can operate efficiently under non-ideal sun exposure conditions.
The sCharger-5 does not include any on board batteries that interrupt the continued use of a remote device. It needs no special adapters because it directly charges devices using the supplied USB charge cord that is included with the device. It is reliable and durable, water and weather resistant and has a sleek compact folding design, lightweight and fits in CD wallets.
Customers have told us they value the powerful sCharger-5 durability, ease of use and compact size as well as its ability to remain operational under a wide variety of remote conditions, designed for long-term value and not obsolesce.
About Suntactics

Suntactics focuses on portable solar and off grid solar energy products. Their current product is a unique 5-watt handheld solar charger called the sCharger-5. This compact high power and durable solar power supply is being used by customers for a wide range of portable devices. Its simplicity in design makes it hassle-free and easy to use, just plug in your device and it starts charging instantly. The units are manufactured locally at Fastrak, a veteran owned contract manufacturer. Suntactics is located in San Jose,
About Buy.com

With more than 18 million customers, Buy.com is a leading retail marketplace, focused on providing its customers with a great shopping experience and a broad selection of retail goods at everyday low prices. Buy.com offers millions of products in a range of categories, including consumer electronics, computer hardware and software, cell phones, books, music, DVDs, games, toys, bags, fragrance, home and outdoor, baby, jewelry, shoes, apparel and sporting goods. Founded in June 1997, Buy.com is headquartered in Aliso Viejo, Calif. Buy.com is owned by Rakuten, Japan's leading Internet Company. Together, Rakuten and Buy.com represent one of the world's largest online retail marketplaces, offering consumers more than 70 million products from nearly 35,000 merchants around the globe.
For more information visit:

http://www.suntactics.com

http://www.buy.com