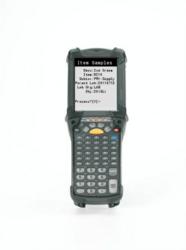 Princeton, NJ (PRWEB) July 18, 2011
TAKE Solutions Inc., a leader in the Supply Chain Management and Life Sciences domains, today announced the availability of Gemini R12.0c, an upgrade for process and discrete manufacturers to automatically collect data using radio-frequency (RF) devices to increase the availability of information on receiving, shipping, manufacturing and inventory activity as it happens. In the new release, transactions to automate batch manufacturing, quality sampling and lot traceability have been specifically developed to meet the needs of process manufacturers, ensuring speed and accuracy on the shop floor.
Operating within TAKEs environment and Oracles Mobile Supply Chain Application (MSCA) and WMS environments, Gemini R12.0c enables manufacturers to automatically gather data at the source on mobile devices, reducing the potential for errors, improving control and increasing visibility of key processes as they occur. Gemini R12.0c complements existing Oracle MSCA/WMA functionalities with advanced capabilities in areas such as receiving, inventory management and shipping execution, allowing enterprises to extend their existing Oracle environments without costly modifications to Oracle applications. The result is a supply chain environment precisely tuned to the enterprises needs, with the flexibility and scalability to adapt to future requirements.
Enterprise mobility is quickly emerging among manufacturers as a must-have to increase efficiency and productivity within their supply chains, said Grant Woolf, vice president of strategy and business development, TAKE Solutions. The latest release of Gemini provides Oracle R12 compatibility for both our installed customers and users of Oracle-based mobile solutions to ensure such activity. Our commitment in addressing critical areas of receiving, manufacturing, inventory, shipping and quality within the Oracle mobile environment is solid. As organizations implement Oracle R12, in which process and discrete inventory records are merged into one set of inventory records, process manufacturers find they continue to benefit from Gemini data collection specific to their business needs.
Gemini R12.0c upgrades include:

Low cost PCB on PCBWay - only $5 for 10 PCBs and FREE first order for new members
PCB Assembly service starts from $88 with Free shipping all around world + Free stencil
PCBWay 2nd PCB Design Contest