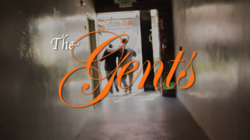 Los Angeles, CA (PRWEB) May 07, 2012
Comedy is the last bastion of free speech, declares Raging Artists Founder Hershel Rephun in the filmed introduction to the companys new scripted web series, The Gents. The intro is part of RAs Kickstarter campaign to finance two initial episodes of the show. The Gents are renegade music lovers who scour YouTube for up and coming talent to launch through their record label. The campaign is now live at http://kck.st/Jkr4Ta.
We started with the concept that with todays technology you dont need anyones permission to live creatively, said Raging Artists CEO Justo Diaz, who co-wrote the show with Rephun and directed the pilot presentation. From there, we developed a story about two rebellious guys who are out of their minds but smart enough to know that YouTube is the embodiment of the American Dream.
The secrets to making your living as a creative company or individual are embedded in The Gents, said Rephun. It mirrors our own journey to liberate ourselves from the constraints of a service business model, something that was unthinkable just a year ago. Secret #1 is to submit to a creative project – to act on it – without justification. For Raging Artists, the initial endeavor was a spec commercial for the Honda Odyssey. As a group of minivan-driving parents, we wanted to convey the message that A Family Man is Still a Man, Rephun recalled, so we wrote a script found a great director in Tim Damon, and shot it – we didnt ask why or how. That video is now #1 on Google for the term Honda 2012 Campaign.
Secret #2 is to be forward-thinking, added RA Partner/CFO Ernie Noh. With the progress of China and other developing countries, goods and services are diminishing as leading US exports. Were confident that creativity will be among this countrys leading exports in the future and were embracing that.
The Gents features a cast comprised of rising stand-up comics, actors, and voiceover artists. Rephun and Noh star alongside Rich Aronovitch (Comedy Central, The Tonight Show with Jay Leno) and Zara Mizrahi (Comedy Store, The Improv). Along with Diaz, Rephun and Noh also write and perform stand-up comedy, appearing at clubs such as The Ice House, Comedy Store, and Flappers.
Rachel Reilly (The Amazing Race, Big Brother) guest stars in the pilot presentation. These guys had me cracking up from the minute I met them, said Reilly, who produced and hosted a Raging Artists stand-up comedy show in March. Not only are they creative and dynamic but they emphasize the importance of action and perseverance. She added that RAs nurturing atmosphere provides an outlet for comedic minds to further their craft. In addition to putting together an ensemble of young talent, theyre creating a comedy community, Reilly said.
Raging Artists is seeking $ 33,000 to cover production of the first two episodes. The team also wants to commission original theme music. Any funds secured in excess of the goal will go toward the quality and promotion of the series. Contributor rewards range from Exclusive HD Digital download of Episodes 1 and 2 to guest starring roles, product placement and a live standup comedy show created especially for the donor. We want to make sure contributors are entertained, honored and included, Diaz said.
Thanks to YouTube, you dont need the system, you just need passion, Rephun concluded. Its an idea that dovetails nicely with Kickstarter. Fans can make this show – or any show – a reality.
About Raging Artists

Raging Artists creates and markets non-commissioned original content, while empowering others to do the same. The artistic soul suffers in normal society so it is fitting that RA embraces the kindred spirits of tragedy and comedy. We all experience pain, and we convert those experiences into entertainment through the prism of comedy we call it Enterpainment. There are no boundaries within these walls, only sledgehammers aimed at preconceptions. At Raging Artists, each team member brings a unique creative energy to their role, whatever it may be.