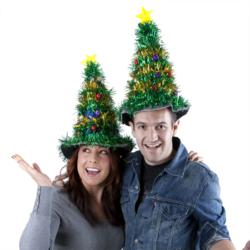 Los Angeles, CA (PRWEB) December 08, 2011
Its here, and its stupid-er than ever; the 5th annual list of the most stupid holiday gifts from online gift retailer Stupid.com.
These gifts occupying this years list may be too stupid for the 1%, says Stupid.coms Vice-President Justin Scott. But were confident the gags weve selected for this years list are sure to make the 99% laugh out loud.
Here are the Top 10 Stupidest Holiday Gifts for 2011:
Giant Christmas Tree Hat Why buy a tree when you can wear a tree? This festive hat lights up and is guaranteed to get you noticed on the holiday party circuit. $ 12.95
Pooping Reindeer Sweater Want to win that Ugly Christmas Sweater Contest? Then deck yourself in this funny red sweatshirt, which features artful silhouettes of reindeers answering the call of nature. $ 27.95
Peeing Santa Liquor Dispenser Who needs to get drunk to have giggle fits? This obscene Old St. Nick doesnt dick around as he pours the drinks via a special spigot. A gift you can be cocksure boozy buddies will love. $ 14.49
Bacon Candy Canes Peppermint is out, and pork is in! These treats look like traditional candy canes, but they taste like bacon. Did we mention Bacon? Bacon! $ 6.49
Remote Control Air Swimming Shark Just when you thought it was safe to get out of the water! Make your wildest nightmares come to life as this gigantic inflatable balloon Jaws swims through the air. $ 37.95
Dashboard Pole Dancer Forget Hula Hussies; This flirty, bikini-clad beauty swings and spins on her pole as your drive watch out for potholes! Or dont.
Self-Stirring Mug The perfect present for the lazy lot: Simply press a button and this electronic mug does the stirring for you. Make mine a double. $ 13.49
Obamas Last Day Countdown Clock Not an Obama fan? Then look on the bright side, with this GOP-friendly timer, which counts down the days until the next Inauguration Day. Tick, Tock, Barak! $ .9.95
2012 Doomsday Calendar Zombie Attack? Universal Internet Failure? The Apocalypse? The predictions just keep rolling in, and this calendar will make sure you know when the world will end. Just think: Its the last calendar youll ever need! $ 12.95
Happy's Vibrating Head Massager – Sure, it might give a nice, calming head scratch. But who can relax knowing that you're holding a giant purple vibrator with spider-prongs on top of your head?
Stupid.com has been spreading laughs one gift at a time since it burst onto the online retail scene in 1998. From gag gifts, to stocking stuffers, the company offers a huge selection- more than 2,000 products and 100 categories, all crazy and insane gifts.
###







Related Electronic Circuits Press Releases