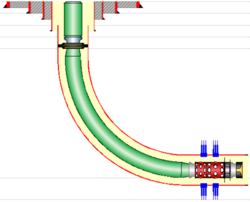 Houston, Texas (PRWEB) February 15, 2012
WellEz released a significant upgrade to the wellbore schematic component on January 24, 2012. The new wellbore schematic allows users to see both vertical and horizontal wellbore diagrams, and is automatically populated throughout the entire well lifecycle (from drilling through completion).
Our clients will see a major benefit in time-savings said Fernando Salazar, Technical Coordinator at WellEz Information Management. Instead of creating wellbore diagrams manually in spreadsheet programs, or by-hand, our system creates the entire diagram automatically.
The updated wellbore diagram component requires no input from the operator. The entire wellbore schematic is created based on drill bits, casing, and bottom hole assembly information already entered by field personnel.
Updates to the system will allow the wellbore schematic to show deviation based on survey entries, and will automatically populate diagram information from one job in the well to the next (ex. Drilling to Completion).
WellEz is also offering an expanded library of component icons. When filling out bottom hole assembly items for the drilling morning report, or entering the tubing string in a completion job, users will be able to select from a wide-variety of pre-configured icons. Additionally, packers and perforations will be displayed in the diagram during the completions phase of the well.
About WellEz
Founded in 2000, WellEz Information Management is a privately held, international oilfield service company located in Houston, Texas. The leading provider of field reporting tools for drilling, completions, and other operations, WellEz is staffed by experienced oil and gas professionals and a team of highly qualified software developers. The company's webbased field software for well lifecycle reporting is the comprehensive solution to limitations, user difficulties, and support issues that are often encountered with traditional reporting software. For more information, visit our website.
###