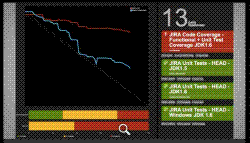 San Francisco, CA (Vocus/PRWEB) December 14, 2010
The winners in the Atlassian Ultimate Wallboard competition were announced this week. The competition, which ran for a little more than a month at http://ultimatewallboard.com, sought to identify the best "information radiator" designs and inspire product development teams.
An information radiator is a large display of critical information that is continuously updated and located where a software development team can see it constantly. A wallboard is a type of information radiator. It's large, highly visible and easy to understand for anyone walking by. Wallboards are incredibly valuable tools for agile software development teams to share vital information and maintain focus on common goals.
There were 87 teams competing in the Ultimate Wallboard competition to win awards, claim the Ultimate Wallboard title, and scoop up sweet prize packages that include Mac Minis and huge flat panel TVs. The competition was both voted on by visitors for the Community Favorite and judged by a panel of experts for the Best "Old School" Wallboard and Ultimate Wallboard awards.
And the winners are:
Community Favorite: Avisi was voted the Community Favorite for their slick design, real-time stats and status across all teams and projects. Data is integrated from JIRA, GreenHopper and several other systems. The wallboard even features Arduino-powered LED backlighting to notify team members when issues come up and get resolved; thereby avoiding "wallboard blindness". See the Avisi wallboard.
Best "Old School" Wallboard: GLINTECH won the "Old School" category. Their wallboard uses a simple ticket system where details are provided for all user stories in a sprint as well as the tasks to implement each story. Markers are used to indicate who is working on which ticket. GLINTECH used clotheslines to make the tickets movable, from 'backlog' to 'complete.' See the GLINTECH wallboard.
The Ultimate Wallboard: The Vodafone Web Team in Denmark won the grand prize and title of the Ultimate Wallboard. Their team's submission impressed the Ultimate Wallboard judges with its effective combination of an "old school" physical wallboard with heaps of modern technology. The wallboard features the integration of physical elements (RFID tagging, projection, printing) with virtual / technology elements. See Vodafone's wallboard.
Honorable Mentions
Both the community and the judges of the Ultimate Wallboard competition had a tough time picking winners. There were many close calls, including the Willow Creek Production System wallboard that was just 2 votes shy of winning the Community Favorite.
In the end, the developer community is the big winner because it now has 87 inspiring wallboard examples. For instant wallboard creation, Atlassian customers can use the free Wallboard plugin to JIRA and GreenHopper. For more information about the contest, or to see all the wallboards, visit http://www.atlassian.com/wallboards.
About Atlassian
Atlassian provides software development and collaboration tools to help teams conceive, plan, build and launch great products. More than 20,000 organisations of all sizes use Atlassian's issue tracking, collaboration and agile software development tools to work smarter and deliver quality results on time. Learn more at http://www.atlassian.com.
###

More Arduino Projects Press Releases